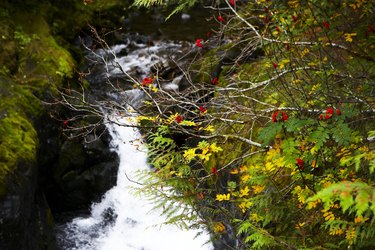 When building driveways, create relatively flat, strong surfaces that can support the weight of vehicles for long periods. If a creek cuts through your property where you need to build a driveway, you have one of three primary options: build a culvert, build a bridge or divert the driveway. Building a culvert or bridge requires much time and may incur significant expense.
Culverts
A culvert is a semicircular piece of galvanized steel or polyvinyl chloride that fits over a creek like a small bridge. Measure the creek's span and distance between the creek bed and ground level. Purchase a piece of material for covering this area, and then build a stone or brick structure on the culvert's top, creating a path. David Reed, author of, "The Art and Craft of Stonescaping," recommends using culverts only in areas with consistently low water levels and only for footpaths or small vehicles like motorcycles. Contact an engineer to determine whether you can use a culvert for your driveway.
Bridges
In most instances, building a bridge driveway is necessary to span a creek. Building a bridge requires engineering work, including determining soil qualities, appropriate building materials, weight-distribution methods, and an adequate span and width relative to the creek's size and vehicle requirements. Bridge building also requires heavy, professional-grade equipment like pavers. Unless you are an engineer, architect, contractor or experienced builder, do not build your own bridge.
Things to Consider
Various considerations arise when it comes to building a driveway over a creek. Determine the creek's ordinary flood levels and build a bridge or culvert high enough avoiding washing out in a flood. Local building codes also affect how you build culverts and bridges on your property. Writing in Log Home Living magazine, author John Morrell recommends creating a scenic, winding driveway that avoids the complexities and expense of building a road surface over a creek.
DIY vs. Professional
All expert sources, from Reed to Monte Burch, author of "Complete Guide to Building Log Homes," recommend hiring professionals to build a driveway over a creek. This job requires many complex considerations and heavy-duty equipment and materials. It is not a do-it-yourself project. Building a bridge or culvert incorrectly leads to costly and dangerous collapses or washouts. Contact an engineer to inspect your property before undertaking this task.