Known to provide longevity and security, wireless doorbells are highly practical for homeowners. They come in handy, especially if you have a large house or are often in a garden or yard where you may not hear the doorbell ringing. Relying on radio waves and free from all those messy wires, wireless doorbells don't require frequent visits from the electrician, and you can get systems connected within a matter of minutes.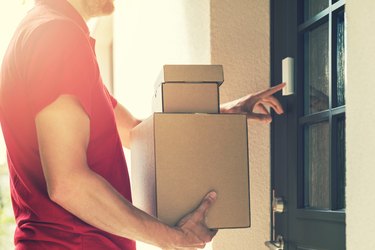 Wireless doorbells should be as pleasing to the eye as they are practical because they are at the very front of the home, and often the first thing a guest sees. There are several features to consider when purchasing a wireless doorbell, including the sound of the chime, its durability (whether it's rainproof or heat-resistant), the range it's expected to cover and whether it should include an intercom. But first, before investing in a wireless doorbell, it's important to know how, exactly, they work.
How a Non-Wireless Doorbell Works
First, a flat piece of metal makes contact with a hot wire beneath the doorbell button. Once contact is made, the circuit finalizes and electrical currents move towards the chime box, where the ringing occurs. The noise ends when the button is released. When the current is activated, an electromagnet attracts the iron parts, emitting a sound when the magnet spawns an iron tab to push down against the chime bar. Sometimes, there will be different chime bars for different doors. There may also be more than one chime bar, which creates different tones. A one-chime bar will create one sound, while a two chime bar might create a "ding dong" sound.
How a Wireless Doorbell Works
Wireless doorbells, on the other hand, require a radio signal that gets transmitted when the button is pushed. They have a push switch mounted on the outside of the door and a battery-powered ringer that can be carried from room to room. The signal gets picked up by a receiver, which then triggers the chime, light or buzzer of the doorbell. In many cases, wireless doorbells have variable frequencies to reduce disruption from nearby doorbells.
A Note On Installation
Installation is simple, but it's important to make sure that you are careful when handling the chime box as the internal circuitry is quite delicate. Wireless doorbells come in several models, including portable version, battery-operated models and ones that plug into an electric outlet.