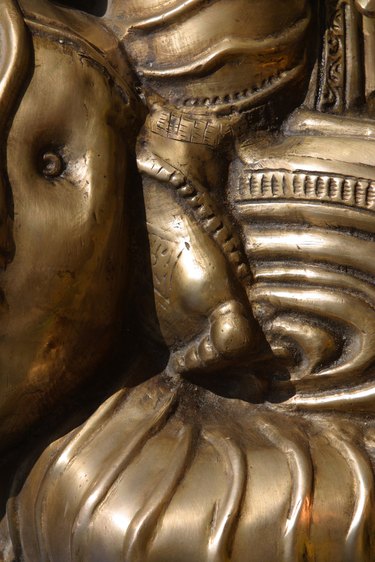 If you find your décor needs a lift, take a close look at your brass picture frames and candlesticks before you consider a total remodel. Cleaning tarnished brass items not only refreshes the items themselves, it also refreshes your entire decorating scheme. Tarnished brass may look vintage, bush shiny brass looks clean, bright and modern. Fortunately, with modern Dremel products, you don't have to expend time and elbow grease to polish brass items. These high-speed rotary tools come with an attachment for everything.
Step 1
Click a felt polishing stylus tip into your Dremel tool. Several styles of Dremel are appropriate for polishing, from the industrial 400XPR to the smaller, lighter 10.8V version.
Step 2
Dip a soft cloth into some brass polish and rub it all over the brass item. You may also dip the felt stylus tip into the polish, but spreading it on with a cloth ensures an even coating.
Step 3
Turn the felt tip on medium speed and gently rub the side of the stylus tip over the brass object. Slide the very tip of the stylus into narrow cracks and crevices. The stylus works best for elaborately worked pieces with lots of scrollwork and design.
Step 4
Remove the stylus tip from the Dremel and replace it with a felt cloth polishing wheel. Rub the side of the wheel over narrow, flat areas on the brass object. You can use the stylus tip for flat areas, and the wheel will cover more area, making the job faster.
Step 5
Give the brass object a final buff with a soft cloth, removing any polish residue and final spots of tarnish that you may have missed with the Dremel.