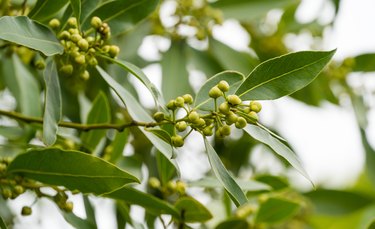 The leaves of the bay laurel tree are widely used as a cooking spice throughout the world, where they enjoy 1,000 years of popularity for their distinct, pungent smell and flavor. But bay (​Laurus nobilis​, USDA plant hardiness zones 8b to 10a) is also used as an insect repellent. There are, however, several claims that bay leaves are effective against almost any insect, but this is not true. Studies have shown that bay leaves can be useful in specific cases, but using bay leaves as a solution to all bug infestations will leave you with continued infestations.
But bay leaves do smell good if you appreciate their somewhat medicinal, piquant aroma, and it might evoke Grandma for you if this was a method she swore by to keep pests out of the pantry. Plus, it's kind of charming to look into your pantry and see a bay leaf pressed against the glass of your flour canister. So use bay leaves if you wish, but know the science so you are not expecting more than they can produce.
Bay leaves are effective at repelling various insects that infest grains, including flour beetles and mealworms, reported a February 2016 study published in the ​Iran Red Crescent Medical Journal​. Further, the study showed that some insects are more susceptible than others to bay leaves, in which the leaves actually act as an insecticide and not just a repellent. These include maize weevils, wheat weevils, and the red flour beetle. These are all pests that generally infest grain storage areas rather than homes.
There is no available scientific evidence that bay leaves are effective against the common pantry moth, although several internet sites claim this is the case. But there is also no apparent evidence that bay leaves are not effective, so there is no harm in placing some dried bay leaves in the containers where you keep your grains, such as rice and flour.
Bay leaves are, however, an effective mosquito repellent, although they are not as effective as some other herbs, including eucalyptus, basil, and anise, according to studies published in the science journal ​Fitoterapia​ in December 2006. The study used fresh bay leaves, in this case, although some other studies and tests have been performed with dried leaves.
Some Bay Leaf Repellent Myths
You might hear that bay leaves are effective in controlling cockroaches. This is most likely a myth. The recommendation is generally that you place dried bay leaves around your house, such as in your trash can or around your kitchen cabinets, to keep cockroaches away. The bay leaves may smell good, but there are no studies that show they are effective against roaches.
Some people recommend bay leaves for a wider array of pest control, including flies, moths, and mice, claiming that these critters will avoid the area because they don't like the bay leaves' scent. Again, there's no evidence that this is the case.