Things You'll Need
Measuring utensils

Tank sprayer

Hose-end sprayer

Hand-trigger sprayer

Cardboard (optional)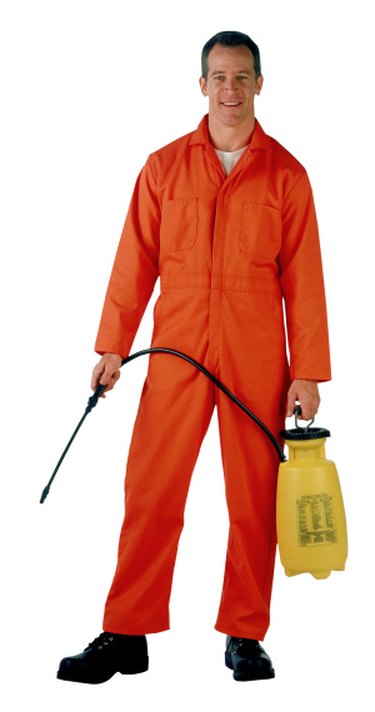 The active ingredients in Eliminator Weed & Grass Killer Super Concentrate are glyphosate and isopropylamine salt. The manufacturer says the formula is able to kill all annual and perennial broadleaf and grassy weeds. The herbicide is labeled for use in flowerbeds, around shrubs and trees, on driveways and walkways, and along fences. The maker also states that the herbicide does not move in the soil; therefore, it kills only the plants you spray. Any residue that hits the ground breaks down into natural substances. Since this is a concentrated formula, you'll need to dilute it before you use it.
Step 1
Mix 3 tbsp. Eliminator weed killer with 1 gallon water in a tank sprayer to control annual weeds. Increase the rate to 5 tbsp. herbicide per gallon water when you treat perennials and brush. Spray the plants you want to eliminate from the garden.
Step 2
Add 3 tbsp. herbicide to a hose-end sprayer container. Set the dial on the sprayer to 1.5 ounces. Turn the water on, and spray the plants you want to kill. This amount of prepared concentrate is enough to cover 300 square feet of weeds. Use 5 tbsp. herbicide per gallon water to get rid of perennial and woody plants.
Step 3
Dilute 2 tsp. Eliminator Weed & Grass Killer in 3 cups water in a hand-trigger sprayer. Spray the unwanted plants in your garden. Mix 1 tbsp. weed killer with 3 cups water in a hand-trigger sprayer to treat perennials and shrubby plants.
Step 4
Apply the herbicide any time during the weed's growing season. Young plants die within two weeks. Established perennials take up to one month to completely fade. If they don't die within four weeks, treat the plants again.
Tip
Use the herbicide when the temperature is above 60 degrees Fahrenheit and the sky is sunny.
To prevent chemical mist from landing on and killing plants you want to keep, place pieces of cardboard around the plants.
Warning
Use all utensils and equipment for herbicide application only.