Things You'll Need
Vinyl siding

Table saw

Galvanized roofing nails or exterior screws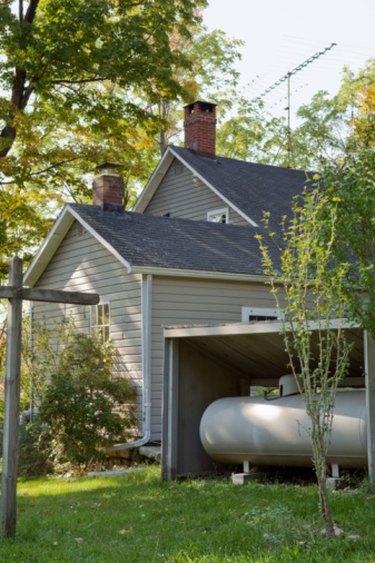 The advantage to using vinyl siding on the exterior of your home is you will not need to paint it as frequently and it is easy to repair using only a few tools. The most common mistake homeowners make is nailing the vinyl siding too tight. Vinyl siding will expand and contract when the temperatures change. If you nail it too tight, it will buckle and crack. The second mistake is not snapping vinyl siding pieces into place, allowing the siding to lift in windy conditions. To prevent this from happening, pull up on every piece until it snaps in. You will know when the siding is in place by sliding the piece back and forth. Another mistake is nailing the final piece where the siding meets the soffit. With a little instruction, though, all these mistakes can be avoided.
Step 1
Snap the second-to-last piece of vinyl siding into place. Loosely secure it with galvanized roofing nails or exterior screws in the center of the notches on the top of the siding. This will be the last full piece.
Step 2
Secure the utility trim, also called under sill trim, just below the soffit, using the same technique to secure the utility trim as you used with the vinyl siding.
Step 3
Measure from the lip on the top of the second-to-last piece, where the siding snaps together, to soffit. Subtract 1/4-inch from the measurement.
Step 4
Set the table saw with a metal blade to the measurement of the last piece of siding. Cut the last piece of vinyl siding, using the table saw with the bottom of the siding against the guard on the table saw.
Step 5
Make tabs every 12 to 16 inches in the cut edge of the vinyl siding, using a snap lock punch.
Step 6
Push the top of the vinyl siding with the tabs into the utility trim,just enough to hold the edge and push the bottom against the second-to-last piece of siding. Push up gently until you hear a click. Be sure the top and bottom click into place. Once it is in place, test by sliding the last piece back and forth slightly. It should move smoothly.
Tip
You can use a utility knife or vinyl snips to cut the vinyl siding and utility trim, instead of a table saw.
Vinyl siding tools and a table saw can be rented at your local tool rental store.
---
Amanda Flanders has been writing since 2007. She received "Rising Star" awards for her articles published in 2010 and is educated in a wide range of home improvement topics and dog care. Flanders holds a certificate in Real Estate Appraisal from the University of Maine, Bangor and is certified in Standard Operating Procedures and Interpreting Animal Behavior for Safe Handling from Human Society University.