Things You'll Need
Hydrogen peroxide

Laundry detergent

Baking soda

White vinegar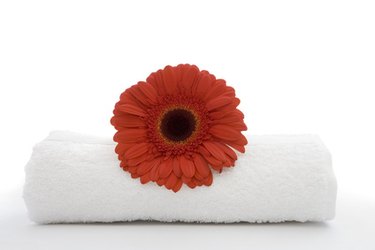 Whitening towels is a simple way to make a dingy set of cloths look bright and good as new without spending a great deal of money on new towels. Whether the towels are for a special occasion or everyday use, making them look white and new is simple. Towels can be whitened with simple household supplies, which keeps the cost of maintaining towels low. Towels can be whitened in a short amount of time.
Step 1
Treat any obvious stains or marks on the towels with hydrogen peroxide. Dab a small amount of hydrogen peroxide over the entire stain and allow it to sit for at least an hour before washing the towel.
Step 2
Load the white towels into the washing machine and add laundry detergent as well as 1/2 cup of baking soda. The combination of detergent and baking soda helps to lift stains out of the fabric and whiten the towels.
Step 3
Run the washing machine and add 1 cup of white vinegar during the rinse cycle. The vinegar will brighten the whites and help deep clean the fabric for the rest of the washing cycle.
Step 4
Dry the towels thoroughly. Repeat steps 1 through 4 as necessary to get the towels looking professionally cleaned and whitened.