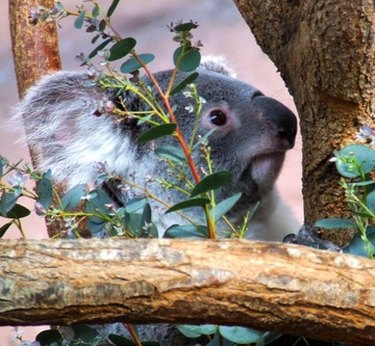 Eucalyptus is known for its strong fragrance and medicinal properties, according to Cornell University. The branches and leaves of the plants are also often dried and used in flower arrangements or in crafts.
Preparation
Prepare the plants for drying by clipping the stems to the desired length; rinse off any dirt, bugs or other debris. Remove any broken or dead leaves but leave the remainder of the leaves on the stems. Lay the plants out to dry on paper or cloth towels, taking care not to damage any of the leaves.
Air-drying
Tie a bundle of eucalyptus stems together with string or use a rubber band and hang them from the ceiling in a dark, dry room. Do not use a room that is warm or humid. After two to three weeks, cut the stems down. Air-drying causes the plant to brown and the leaves will be dry and brittle.
Glycerin Drying
Use glycerin to dry the leaves more quickly than the air-drying method. Mix one part of glycerin to two parts of hot tap or boiling water. Squash the ends of the eucalyptus stems with a hammer and place them into the mixture. You can put the stems in the mixture while it is still hot. Let the stems absorb the mixture for about five days. Remove the stems from the mixture. The leaves will retain their color and be pliable.
---
April Sanders is a writer, teacher and the mother of three boys. Raised on an organic farm, she is an avid gardener and believes that good growth starts with a rich, supportive foundation -- a philosophy that serves her well in both gardening and teaching. Sanders has written for Nickelodeon, Warner Brothers, Smarted Balanced, PARCC and others.