Butyl tape is a type of adhesive sealing tape that has a wide range of applications. The tape comes in single- and double-sided versions, and is used in the construction and repair industries more than in any other industry. The tape offers unusual properties that other forms of tape and sealant cannot provide. The main advantage of butyl tape is that it combines the adhesive power of tape with the sealing power of caulk and other sealing products.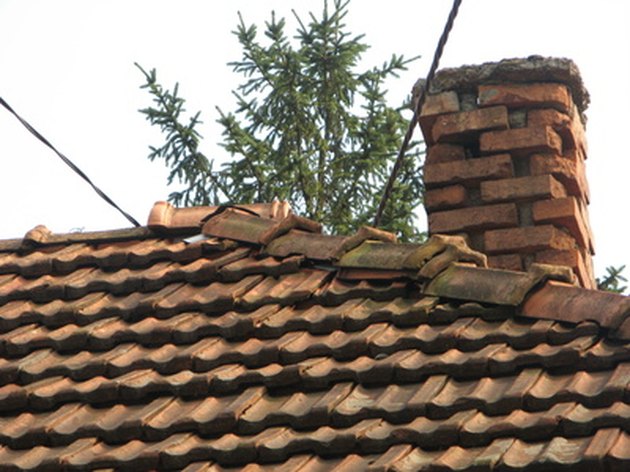 One of the original uses for butyl tape is for roofs. The tape protects and seals cracks, seams and even small holes on the surface of a roof. In most cases, the tape works best on smooth, dirt- and grit-free roofs. The tape can hold many types of roofing together, such as metal, vinyl, asphalt, cement and tar paper. Even though the tape is strong and flexible, it's not designed to hold large areas of roofing together.
Butyl tape can be used on all vents leading from the inside of a building to the outside. The tape works to block the space between the wall and the vent, preventing air flow from entering or exiting the building around the vent and keeping moisture from entering the building. Butyl tape is especially useful around roof vents.
In some cases, butyl tape will also work as a waterproofing tape for pipes. Unless the leak is extremely small, however, butyl tape works best as a temporary fix. When working with pipes, ensure that the surface of the pipe is clean and dry before applying the tape, which works best when several layers are wrapped around the trouble area. Butyl tape also works as a containment for other sealants such as silicone sealant.
Butyl tape can also be used as a glass sealant. The butyl tape used for this application is double-sided and is a form of glazing tape. When a window is installed into a frame, the butyl tape acts as an insulating and adhesive barrier between the glass and the frame. This helps the glass stay inside the frame and also protects the window from outside and inside elements. Certain thicknesses of butyl tape can also work as a small shim between the wall and the window frame.