Things You'll Need
Spray bottle

White vinegar

Baking soda

Vacuum cleaner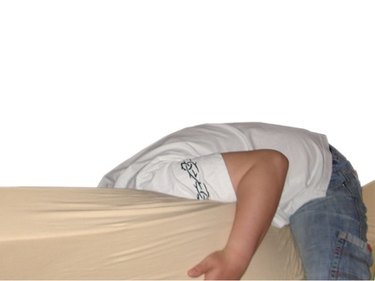 A mattress usually requires little to no maintenance, but when you purchase a used mattress, or residue or urine comes into contact with the mattress, you want to find a way to disinfect without harming the mattress itself. Especially when it comes to urine, you need something that both cleans the urine plus deodorizes, so by combining white vinegar with another inexpensive cleaning element you can both disinfect and remove odor from the mattress.
Step 1
Fill a spray bottle with pure white vinegar, and twist on the cap.
Step 2
Spray a light coat of the vinegar all over the mattress, and let it air dry. The vinegar will naturally disinfect the mattress.
Step 3
Spray any stains, especially urine stains, with a heavy coat of the vinegar until the area of the mattress is saturated.
Step 4
Sprinkle a heavy coat of baking soda onto the mattress stain also, and let it sit overnight.
Step 5
Vacuum your mattress the next day to remove the baking soda. The vinegar will kill bacteria and pull out odor, while the baking soda will absorb the excess moisture from the mattress.