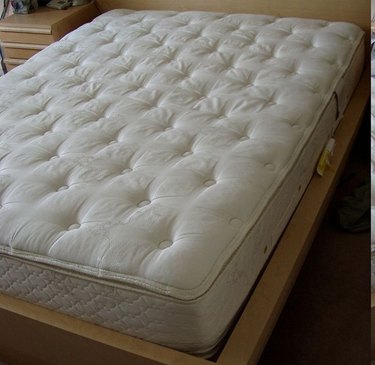 Given our need for sleep and rest, people often spend up to eight hours every day in a bed. This is why mattresses require regular cleanings. Stains are common on mattresses. There are a few ways to remove stains with general household cleaners.
General cleaner
For some stains, general all-purpose cleaners will work well to remove the stain. Consider making your own mixture with 2 tablespoons of baking soda, 2 tablespoons of borax and 4 tablespoons of vinegar added to a 32-ounce spray bottle filled with water. Shake the bottle well to dissolve the ingredients. Essential oils or mild perfumes can nicely infuse this homemade cleaner with pleasant scents.
Spray the cleaner onto the spot and let it sit to loosen the stain. After a minute or so, spray again and use a scrub brush to agitate the stain with circular scrubs. Spray again and wipe the spot with a little elbow grease until it is clean. If necessary, repeat until the stain is removed.
Bleach
Bleach is an option only for difficult stains on a white mattress. It works very well to remove bed-wetting stains, neutralizing any odors or urine in the mattress. However, wear gloves and ventilate the room very well so that the bleach fumes can escape. It is also a good idea to dilute the bleach with water and a little liquid soap to enhance its cleaning action.
Using a spray bottle, apply the diluted bleach mixture. Spray a generous amount onto the stain, then use a cloth or scrub brush to agitate the stain. Spray again and wash the area clean with a cloth.
Hydrogen peroxide
Hydrogen peroxide is home solution for blood stains. Apply a generous amount to the stain and allow the hydrogen peroxide time to react with the blood stain to break it down. The hydrogen peroxide will generate bubbles as it works. Wipe away the peroxide after a few minutes, then apply more to the stain. This time, use a scrub brush to further work it into the stain. Apply again, if necessary. Wipe away, then apply a general cleaner. Scrub again to remove the stain.
Time to Clean the Mattress
The best time of the day to clean a mattress is in the morning. This is a good time to ventilate the room, clean stains and vacuum or deep clean the mattress. If the mattress is cleaned in the morning, it should be dry before bedtime. Starting early will allow the outside air and sunshine to help dry the stain cleanup, leaving you with a fresh-looking and fresh-smelling mattress.
---
Naima Manal's articles on health, diet, nutrition, alternative medicine, education, parenting, crafts, travel, home and garden and home improvement have appeared on various websites. Manal received her Bachelor of Science in biology/pre-medical studies from Molloy College in 1994 and has been a freelance writer, teacher and homeschooling mom since 1993.