Things You'll Need
Owners manual for your gas fireplace

Newspaper or plastic sheeting

Vacuum with hose and brush attachment

Scrub brush

Rag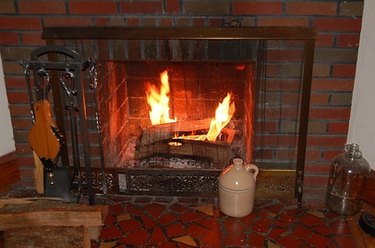 One of the benefits of owning a gas fireplace is that it is much easier to clean and maintain than a traditional one. While some soot will build up on the ceramic logs in your gas fireplace over time, excessive soot buildup is not normal and usually signifies a problem with the combustion in your fireplace. If there is only mild soot buildup, you can safely clean the ceramic logs yourself. If there is a significant amount of soot on your ceramic gas logs, contact a professional hearth specialist to inspect your gas fireplace.
Step 1
Turn your fireplace off. Wait until it is cool to the touch to begin cleaning your ceramic gas logs.
Step 2
Locate the owner's manual for your gas fireplace so that you can find the cleaning instructions peculiar to your gas fireplace model. If you can't find it, download it from Manuals Online (resources).
Step 3
Lay down newspaper or plastic sheeting on the floor in front of your fireplace to protect your flooring from any stray soot or debris.
Step 4
Vacuum the inside of your fireplace, and as much of the surface area of the logs as possible, using the hose and brush vacuum attachment.
Step 5
Refer to your owners manual to see whether or not you may remove the logs from the grate. Moving the ceramic logs in some gas fireplaces will disturb the combustion, so do not move them until you refer to the manual. If you may remove them without throwing off the combustion, do so and vacuum them thoroughly.
Step 6
Scrub the ceramic gas logs lightly with a scrub brush, vacuuming the debris you've brushed off of the log immediately.
Step 7
Wipe any remaining soot off of the logs with a dry soft rag. Unless directed to by your owners manual, do not use any type of cleaner on the log because the cleaner may react to the gas or flame and cause more soot to form.
Step 8
Check your owners manual to see if you can use a damp rag to remove any remaining soot. If the manual doesn't tell you whether you can use water or not, dampen a rag and wipe it on a log in an inconspicuous place. If the finish doesn't seem to have been affected after the log dries, you can use the damp rag to clean the other logs as well.
Step 9
Replace the logs if you've taken them out for cleaning. Put them back in precisely the same positions they occupied before you removed them.
---
Tammy Dahlvang began writing professionally in 1997. She has contributed "Across the Pastor's Desk" articles to the "Albert Lea Tribune" in Albert Lea, Minn. She graduated Phi Beta Kappa from Northwestern University in 1993, and in 1997 earned a Master of Divinity from Luther Seminary in St. Paul, Minn.