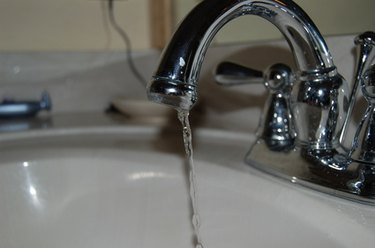 Culligan water softeners are available in a variety of models. While each model has distinct features and specifications, many are universal. If problems occur with the water softener, perform troubleshooting steps to identify the cause of the problem and solve it. In many cases, common issues can be addressed by the owner of the water softener unit.
Step 1
Check the power supply cord if the unit is not operating. Make sure the cord is fully plugged into the outlet. Check if there is a wall switch that has been turned off for that outlet.
Step 2
Check the circuit breakers or fuse box if the unit is not receiving power. Reset any tripped breakers. Replace any blown fuses.
Step 3
Reset the timer if the house experienced a power failure. On most models, this is done by pressing the "Regen" button on the control panel. An interruption in the power supply to the water softener can disrupt the recharge schedule and cause the timer to run off-schedule.
Step 4
Check the bypass valves to make sure they are in the correct positions. Open inlet and outlet valves if hand valves are used on your model. Close the bypass valve.
Step 5
Make sure the water supply to the unit is working if there is no water flow. Open a faucet ahead of the water softener unit from the water supply to check for water pressure. Check the bypass valve if there is water pressure at the faucet. Make sure the bypass valve is closed.
Step 6
Reprogram the recharging schedule if there is an increase of water usage in the home. More water usage will require more capacity from the water softener unit. On most models, change the schedule by pressing "Enter" until the display indicates "Day" for 2 seconds, followed by a number that indicates the hours between each recharge. Decrease the interval by pressing the minus button; increase it by pressing the plus button. Press "Status" to save the changes.
Step 7
Refill the salt supply tank if it is below the fill line. Recharge the unit 4 hours after filling the salt tank to allow the salt time to dissolve. Press "Regen" on the control pad to recharge.
---
David Clair began writing for websites in 2001, creating online marketing content for business owners. He has written for Internet companies including eBay and creates training materials for an online education company. Clair is studying technical writing and pursuing an Associate of Arts in information technology from the University of Phoenix.