Things You'll Need
Supplied self-service wrench (a 1/4-inch allen key)

Flash light

Tongs or pliers

Baking soda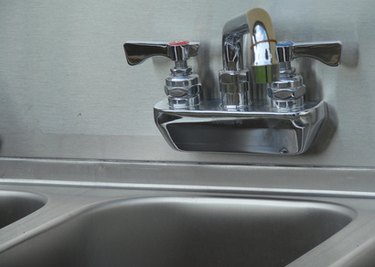 Insinkerator garbage disposer appliances are designed for all kinds of food waste, including bones and fruit pips. In fact, bones and other similar items keep the shredding components in the disposer clean. Fiberous materials like corn husks, artichoke leaves and flower stems can jam it. Seafood shells shouldn't be introduced into the disposer at all. Problems with your Insinkerator are usually related to it not running. Problems can be troubleshooted.
Step 1
Unplug the Insinkerator, or switch the Insinkerator off at the circuit breaker panel. Wait for the sink to drain, or bail the water out using a pot if the sink won't drain. Insert the self-service wrench into the hole at the bottom of the Insinkerator. Work the wrench backwards and forwards to unjam the disposer. You may have to use some force. Work the wrench until the Insinkerator turns freely in circles in both directions.
Step 2
Press the red button on the underside of the Inskinkerator. The red button is the overload protector. If it has tripped, it will protrude a quarter of an inch. If it won't stay pressed in, try again after 10 minutes.
Step 3
Peer into the disposal chamber with a flash light. Use tongs or pliers to remove anything. Don't put your hand in there.
Step 4
Turn the water on again, and then the disposer. The disposer should now run.
Step 5
Clean the disposal if it smells. Unplug the Insinkerator, or switch the Insinkerator off at the circuit breaker panel. Reach through the sink opening avoiding the teeth and clean under the rubber baffle. Place the stopper in the sink, fill the sink half-full of water and mix in a pound box of baking soda. Turn the disposer on and remove the stopper allowing the water/baking soda mix to flush the system.
---
Patrick Nelson has been a professional writer since 1992. He was editor and publisher of the music industry trade publication "Producer Report" and has written for a number of technology blogs. Nelson studied design at Hornsey Art School.