Carpet shampoos and solutions designed for carpet-cleaning machines can be quite expensive and may contain chemicals you'd prefer not to use around the house. To save money and know exactly what you're putting on the carpet, make your own carpet-cleaning solutions from standard pantry and laundry-room items.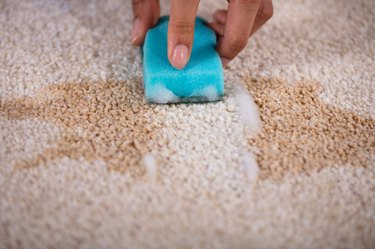 Pre-Cleaning the Carpet
A carpet cleaner is most effective if the carpet is free of debris, such as dust, pet hair and pet dander. Pre-treat that carpet by sprinkling baking soda over it, then wait 30 minutes or so before thoroughly vacuuming the entire carpet. This will pick up any loose items and help deodorize the carpet so the carpet-cleaning machine can deep-clean the carpet fibers.
Move the furniture out of the room, if possible, before using the carpet cleaner or, ideally, before vacuuming. This helps ensure that the legs on tables, chairs and the sofa won't absorb moisture left behind from the carpet cleaner. Moving the furniture also makes it easier to clean the carpet.
Vinegar and Water
Mix equal parts white vinegar and hot tap water in a bucket. Add five drops of your favorite essential oil to the mixture, then swish the bucket around to blend. Oils such as lemon, sweet orange or peppermint help add a fresh, clean scent to the air. Lavender also helps deodorize. Be sure to use only essential oils, which can be found in natural markets and some health food stores, instead of fragrance oils. Essential oils are pure and derived directly from plants, while fragrance oils are often synthetic and may contain other oils that aren't designed for this type of use and can stain.
Pour the liquid into the liquid chamber in the carpet cleaner. Clean the carpet following the instruction in the cleaner's manual; instructions may vary based on the machine type and brand. Don't worry about vinegar odor; it goes away on its own in a relatively short time. If the scent bothers you, open windows or add more essential oils to the liquid.
Borax and Water
Borax also comes in handy for making a homemade steam cleaner liquid. Be careful not to rub your eyes or inhale the powder, as this could cause eye or airway irritation. Pour hot tap water in a bucket, then add 1/2 cup of borax per gallon of hot water. Stir to dissolve the borax powder. Pour the liquid into the chamber that's designed to hold liquids on the carpet steamer or cleaner. If you prefer an added scent, add several drops of a citrus essential oil or your favorite essential oil blend.
Spot test the cleaning solution in an inconspicuous corner by dabbing it onto the carpet, then allowing it to air dry. Afterward, clean the carpet with the steam cleaner following the cleaner's directions.