Things You'll Need
Measuring tape

Fence post

Twine

Bamboo fencing

Gloves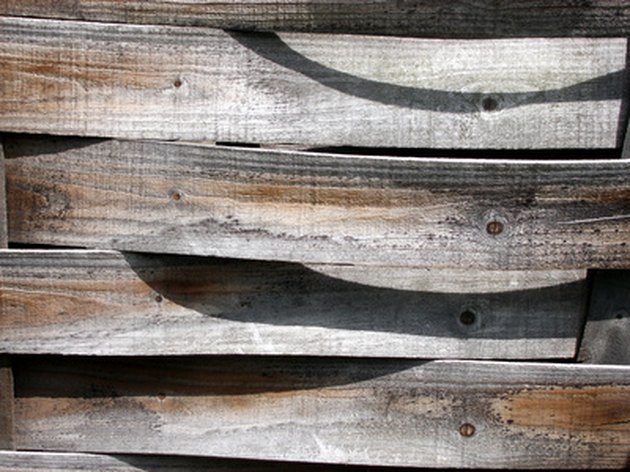 Distracting neighbors or dilapidated buildings next door can detract from the pleasure of sitting in a beautiful backyard. Solve this problem by making your fence taller. A few extra feet of fencing can make a world of difference in what you see and hear. Additionally, making your privacy fence taller can make a fun weekend project.
Step 1
Measure your existing fence posts then decide how much taller you would like the fence to be.
Step 2
Count the number of fence posts around your yard and buy that number of new posts from your local home improvement or gardening store. Each new post should be 1 foot longer than the height you wish to add to your fence. Be sure to pick posts of the same material and shape as your existing posts.
Step 3
Tie the new posts to the existing fence posts with heavy-duty twine or wire. Overlap the poles by a foot. Turn the wire clockwise, making sure to make at least five complete wraps per post.
Step 4
Measure the perimeter around your current fenced in area. Buy enough bamboo paneling to go around the entire perimeter of the fence.
Step 5
Use the heavy-duty twine or wire to tie the bamboo fencing to your new post extensions. Start with a corner or end post and stretch the bamboo roll all the way to the other side of the fence, attaching it with twine to each extension post as you go.
Tip
Fencing extensions come in a variety of colors, shapes and sizes. Shop around to find the kind that best reflects your taste.
Warning
Tie the new posts and bamboo tightly. Wear gloves for protection against splinters.
---
Tzvi Raphael has worked with Fortune 500 companies helping them to maximize their online brand exposure through innovative Web design, content, and marketing. Additionally, Raphael is a writer for multiple high-traffic blogs and websites including eHow and Weight Ladder.