Things You'll Need
CPVC primer

CPVC-to-PVC adapter

CPVC glue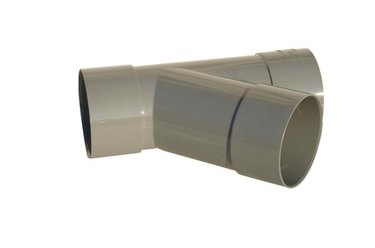 At first glance, PVC and CPVC pipe look the same, but they aren't. Although they are both a type of plastic plumbing pipe, they vary in composition and outside diameter. For this reason, you cannot simply join the two types of plastic with a coupling. You can, however, solvent-weld a special fitting designed to compensate for the diameter difference. When solvent-welding PVC to CPVC, you'll need a primer and adhesive that will soften both types of pipe.
Step 1
Prepare the pieces of the PVC-to-CPVC connection. Prime the first 2 inches of the exterior surface of the PVC and the CPVC pipes with the CPVC primer. Then prime the inside of the entire CPVC-to-PVC adapter. You will find the priming brush attached to the lid of the CPVC primer can.
Step 2
Immediately apply a light coating of CPVC glue to the primed area of the CPVC pipe and the side of the CPVC-to-PVC adapter.
Step 3
Slide the glued side of the CPVC adapter onto the glued end of the CPVC pipe and hold the adapter onto the end of the pipe for 30 seconds to bond the two pieces.
Step 4
Apply CPVC glue to the exterior of the primed end of the PVC pipe and the PVC side of the CPVC-to-PVC adapter.
Step 5
Insert the glued end of the PVC pipe into the glued open side of the adapter and hold for 30 seconds to complete the joining process.
Tip
Use thin layers of the CPVC glue to ensure a quick setting solvent-welded connection.
Warning
Do not substitute PVC glue for the CPVC glue. The PVC glue is not strong enough to soften the surface of the CPVC pipe.
Do not use PVC piping on a hot-water return line. PVC is not rated to carry hot water.
---
C.L. Rease , based in Texas, has been a professional construction and outdoor writer since 2003. His articles have appeared in The News-Press, a local Southwest Florida newspaper and a small Southwest Florida fishing magazine. Rease served a four year apprenticeship to become a union sheet metal journeyman and earned a construction management degree from Florida State University.