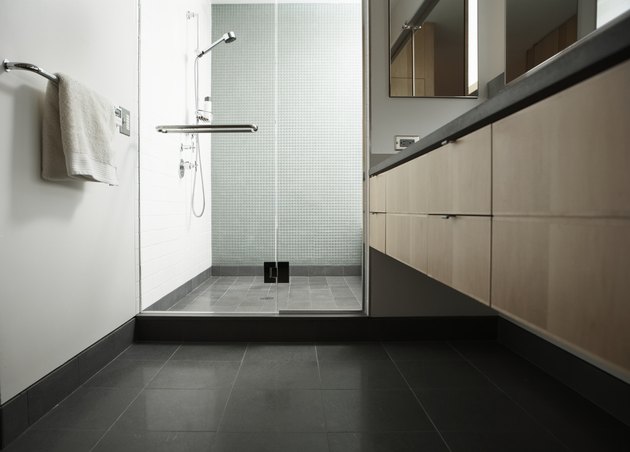 If a bathroom remodel is in your future, there are a lot of things that you will need to consider. The layout, fixtures and materials that you use will determine how functional your bathroom is and how durable it will be. If you are installing a shower stall, there are several options for materials that you can use that will stand up to the everyday exposure to water and soap.
Fiberglass
Fiberglass is one of the most durable materials that can be used for a shower stall. Fiberglass that is gel-coated is your best bet because the gel-coating makes the material even more resilient. A gel-coated fiberglass shower stall is easy to repair if it suffers any damages, such as scratches. Another added bonus, this material is easy to maintain and retains its high-gloss shine for many years.
Acrylic
Acrylic is also a good material for a shower stall. It is a strong material that offers flexibility and durability. It also comes in an array of color options and is fairly easy to maintain. Though it is a bit more difficult to repair than fiberglass, it is still a very high-quality material for use in a shower stall and is able to withstand everyday wear and tear.
Tempered Glass
Another option for shower stall material is tempered glass. Tempered glass has been treated with chemicals to make it stronger than standard glass. It is a great alternative to the above mentioned materials, as you are afforded more options when it comes to style. For example, you can opt for a tempered glass block shower, clear glass or etched glass. In addition, tempered glass is easy to care for.
Granite
Granite is a very popular material used in bathroom construction due to its great strength. This material will last a long time in your shower stall, as it is virtually impenetrable. It comes in a variety of color options, so you will be able to find something to fit your style. It is virtually maintenance free, making it more than just a visually attractive option for your shower stall.
---
Lily Mae began freelance writing in 2008. She is a certified elementary and literacy educator who has been working in education since 2003. Mae is also an avid gardener, decorator and craft maker. She holds a Bachelor of Arts in education and a Master of Science in literacy education from Long Island University.