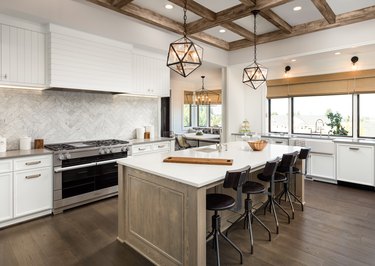 Glued laminated timber, also known as glulam, is a versatile and innovative construction material that builders love to use for commercial and residential projects. Not only is it a solid material, but it is widely available on the market. Although you can attempt to make do-it-yourself laminated beams or buy used glulam beams for sale, it is highly recommended that you purchase them from a reliable source. If you make just one small mistake when trying to make your own glulam, you can severely damage your entire project.
Building With Laminated Beams
Glue-laminated timber has increasingly become popular in residential homes since 2002. Builders and homeowners like glulam beams because you can purchase them from building material dealers and distributors in various stock sizes. Glulam, like most engineered wood products, is very easy to work with, and you don't have to worry about the look of the wood changing over time.
What is Glulam?
Glulam is an engineered product that is created by bonding individual pieces of lumber together. Typically, glulam has a thickness of 2 inches or less. When individual pieces of lumber are end-joined together, they create longer lengths. These long lengths are known as laminations. Laminations are face-bonded together, and that creates the finished product.
Glulam is considered to be one of the most versatile engineered wood products because it can be shaped into different forms. Also, on a pound for pound basis, it can be on the same level of strength as steel. When shaped, one can create straight beams or curved members. You can often find glulam used for garage door headers, floor trusses, ridge beams and purlins, cantilever beam systems and columns.
Misconceptions About Glulam Beams
Glulams is strong and dimensionally stable, so you can use it for a variety of applications. Some even use glulam for long-span roof beams and heavily loaded floor beams. One can find stock beams that come in 60-foot lengths, and they are used for spans upward of 20, 24 and even 28 feet or higher. Many builders like to use stock glulam for framing large window openings and creating rooms without columns supports because these supports will inevitably interrupt the flow of the room.
How to Make Glulam
Although you can make DIY structural wood beams or glulam timbers yourself, they are highly engineered components. Glulam is manufactured from specially selected and positioned lumber laminations, and if you cut a notch or drill a hole in the wrong place, it can seriously affect the load-carrying capacity. It is recommended to purchase glulam that has already been manufactured because you won't have an issue when trying to build. If you're worried about finding glulam beams, they are readily available in stock or custom sizes. Stock glulam is available in all major market areas.
You can find stock glulam that is available in commonly used dimensions and cut to length when the beam is ordered. Most stock beams widths for residential construction include 3-1/8, 3-1/2, 5-1/8, 5-1/2, and 6-3/4 inches. It is also relatively easy to find stick glulam beams available in I-joist-compatible depths. If you're using glulam for nonresidential applications, you can also have custom members made.
Glulam is available in a variety of appearance classifications, but the appearance grades aren't related to the structural characteristics. For example, "framing" beams are used in concealed applications, whereas "architectural" beams are used for applications where the beams are exposed to view. Not only is glulam super versatile, but it is also made out of eco-friendly material that has low formaldehyde levels as well.