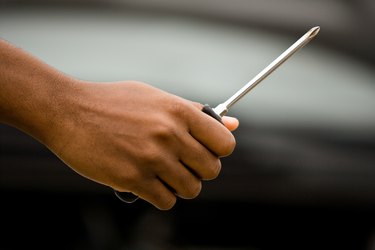 Honeywell thermostat covers come in two types: utility covers that protect the internal workings of the thermostat and decorator cover plates that protect both the internal workings of the thermostat and the wall behind the thermostat. Removing the cover or cover plate is necessary to replace or repair the thermostat.
Remove a Utility Thermostat Cover
A basic Honeywell thermostat cover controls a "round dial," nonprogrammable thermostat. This type of thermostat controls both heating and cooling, if an air conditioner is present. A fan switch allows you to set the furnace fan to run constantly, or just when the furnace runs. Remove a basic thermostat cover by hooking your fingers under the outside plastic ring and pulling it straight out toward you.
A programmable Honeywell thermostat is larger than a basic thermostat and produces LED readout of the room temperature. Instead of turning a dial to raise or lower the temperature, most use a touch pad for programming and manual temperature manipulation. To remove the cover from a Honeywell programmable thermostat, pull the lower right corner of the thermostat to loosen and detach it from the body of the thermostat attached to the wall.
Remove a Decorator Cover Plate
Removing a Honeywell decorator cover plates require removing both the outer utility cover and disassembling the thermostat to remove the decorator cover plate. Before getting started, be sure to turn off power to the thermostat to avoid the possibility of electric shock. Then, depending on the thermostat style, remove the utility cover using one of the two methods described above. Use a Phillips screwdriver to detach the anchor screws on the left and right sides of the thermostat body. Pull the thermostat body away from the wall and then remove the screws at the top and bottom of the cover plate and remove it from the wall.
---
Based in Green Bay, Wisc., Jackie Lohrey has been writing professionally since 2009. In addition to writing web content and training manuals for small business clients and nonprofit organizations, including ERA Realtors and the Bay Area Humane Society, Lohrey also works as a finance data analyst for a global business outsourcing company.