Home heating options are numerous, and choosing amongst them can be difficult. Burning coal for heat can be an excellent choice if done safely. The highest quality coal, known as anthracite, is available for purchase and can be used in many coal-burning stoves, heaters and boilers.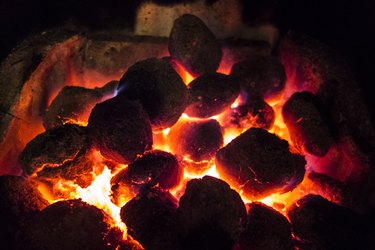 Coal vs. Wood
Generally speaking, coal and wood provide the same amount of heat per pound. However, coal is much heavier and more dense than wood. Therefore, it is important to note that coal takes up less space than its equivalent in wood. This also means that a furnace or fireplace full of coal will need to be filled less frequently than one filled with wood, which can save you the time and effort of reloading.
Coal is the most abundant fossil fuel in the United States, and it shows no signs of depletion. This means that the cost of coal should not rise dramatically in the near future. Coal does not need to be cut or seasoned like wood does. In addition, coal is less likely to bring insects or other wildlife into your home. Coal also deposits less creosote in your chimney than wood does.
Coal has a number of drawbacks when compared to wood, however. Coal is considered a "dirty fuel" due to its sulfur content, which can harm the atmosphere, as well as your health. Coal dust in your home can be problematic. The smell of coal smoke isn't as pleasant as that of wood smoke, and coal fires require much more kindling to light than wood-fueled fires do. Coal burning fireplaces and stoves are also subject to government regulations, as is the disposal of coal byproducts.
Burning Coal
To burn coal for heat at home, you will need a stove, furnace or boiler that meets government requirements and is rated for coal. Many of these heaters are known as stokers. You should carefully follow manufacturer instructions when using your heater and be sure to clean it frequently. In some cases, you will need to remove ash almost daily, since 5 to 10 pounds of ash are produced for every 50 pounds of coal burned.
If you are using a furnace with coal heat, it will likely be your primary heat source. Boilers typically use coal to heat water or other things in your home. A coal burning stove is often used for supplemental heat only.
Where to Buy Coal
Anthracite coal is most often mined in northeastern Pennsylvania, so if you reside in that area, you will likely have an easier time acquiring it for home use. Prices will also tend to be less expensive the closer you reside to a mine.
Coal is delivered in large bags, often in sizes of 50 pounds. It can be stored anywhere and will not go bad. Hardware stores often sell coal in small quantities. If you are seeking bulk coal shipments, you should order from a coal supplier. Blacksmith shops typically stock coal, as well.