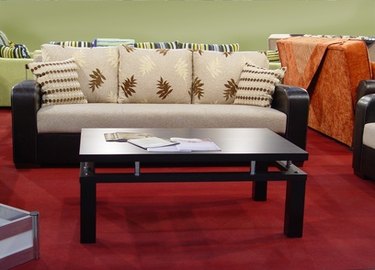 Careless use, together with changes in temperature and humidity, can cause expensive walnut and other hardwood furniture to deteriorate over time. Mass produced modern furniture is often finished with polyurethane varnish. This product imparts a long lasting surface that requires minimal care. Antique and older pieces, however, could have a hand-rubbed resin finish or they could be oiled or waxed. Modern silicone furniture polishes work well on certain fishes, but are not meant for others.
Step 1
Take care not to scratch your furniture. Walnut dining room tables and other pieces, such as sideboards, coffee tables and side tables are vulnerable. Use tablecloths, place mats and coasters to protect the flat surfaces wherever possible.
Step 2
Dust with care. Use a microfiber tack cloth when dry dusting. Use a light touch and do not rub the cloth forcibly over the surface. Alternatively, dampen a soft cloth with a dusting product to avoid microscopic surface dry scratches. Lift vases, centerpieces, picture frames and ornaments instead of pushing them aside while dusting or polishing.
Step 3
Wipe spills off immediately to prevent milky stains forming. Do not place hot cups, pots or serving dishes directly onto wooden surfaces; they could discolor lacquer or resin based finishes and cause waxes to melt.
Step 4
Remove milky water marks as soon as possible. Shallow spots can sometime be removed by rubbing vigorously with the pad of your forefinger. Alternatively, wear rubber gloves and immerse a piece of cheesecloth in very hot water. Ring it out and make a pad. Dampen the surface with a few drops of household ammonia. Rub briskly and lightly until the marks disappear. Finish immediately by applying a generous amount of linseed oil. Buff the surface with a dry soft cloth until the oil disappears.
Step 5
Protect most finishes by applying furniture wax or silicone-based polish to the surface twice a year. Don't wax pieces finished with polyurethane varnish, as this could cause unsightly wax buildup. If you have any oiled pieces, apply a thin film of linseed oil once a year and rub it into the wood until the oily feel disappears.