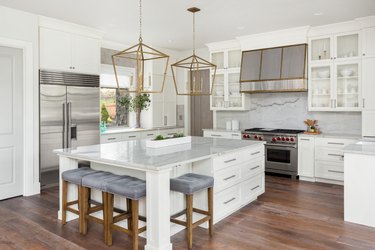 Stainless steel gives any home a very modern and clean look. Everything from appliances, counter tops and even cookware can be stainless steel, which makes having a unified look throughout your home very easy.
Like any other type of material, stainless steel can begin to show signs of wear and tear over time. Scratches on stainless steel are probably one of the biggest signs of aging on stainless steel surfaces, but scratches can also come from accidents with keys and knives. Luckily, these scratches can be removed rather easily with products found around your home.
Removing Stainless Steel Scratches
In order to properly remove the scratches, it is important to understand stainless steel a bit more. Similar to wood, stainless steel has a grain where minute pieces of debris and oils can build up, showing stains and what appear like scratches on the surface. Before cleaning the stainless steel surface, you will first need to determine which way the grain is going.
After you've figured out the grain direction, try using a microfiber cloth and some water applied directly on the affected area before grabbing any store-bought products. It is possible that the scratch is a simple debris buildup and will be removed easily when the cloth is rubbed with the grain. If simple water doesn't work, there are many home remedies that can be used as a stainless steel scratch remover.
DIY Stainless Steel Scratch Remover
Begin by spraying a healthy amount of vinegar on the appliance or cookware item you wish to clean. Using the microfiber cloth, wipe away all the excess vinegar, once again in the direction of the grain found in the stainless steel. This should help remove heavier residue and add a small shine to the surface.
To get a really good shine, it would be best to add a bit of oil to the surface as a polishing agent. Some suggested oils include mineral oil or baby oil, but if neither of these are at your disposal, then a small amount of olive oil will accomplish the task just as well. Dip the microfiber cloth into the oil and rub the liquid into your appliance or item, continually going in the direction of the grain. Make sure not to add too much oil to your cloth for polishing. It is harder to remove oil from the surface than it is to add some if there is not enough.
What to Avoid
To avoid wondering if your scratched stainless steel pan is safe, you may want to steer clear of certain things when trying to rejuvenate the stainless steel surface. Avoid rubbing with abrasive items like steel wool, as this could lead to small fiber residues that may begin to rust — not to mention, the stainless steel cookware scratches it will also leave behind.
It is also important not to let soap cleaners like detergents or cleaning agents dry on the surface of the stainless steel. It is best to avoid these products as they are not the best stainless steel scratch removers, and they will leave your stainless steel looking lackluster and dull.
If you want to avoid scratches in the future, keep sharp objects away from the stainless steel item as much as possible. Do not cut directly on the surface, as this will lead to marks that will begin collecting debris. Inevitably, this will cause you to once again remove the stainless steel cookware scratches.