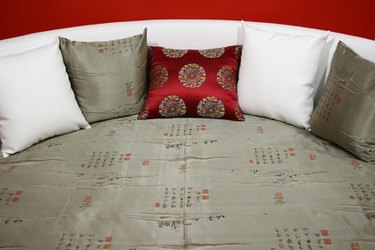 Bed pillows and throw pillows are the perfect place to rest your head for a nap until the day comes when the stuffing gets lumpy and the pillow loses its firm consistency. With throw pillows, a simple change in furniture may mean your old pillows clash horribly with the new sofa. Before you toss an old pillow in the trash due to age or overuse, consider possible reuses around your house and in your community. Donating or reusing the pillow is greener than throwing out the pillow and reduces household waste.
Step 1
Remove pillow shams or pillowcases from the old pillows. Throw the coverings in the wash.
Step 2
Store old pillows in a plastic garbage bag.
Step 3
Check with local animal shelters. These places often accept donations of used bedding and pillows for use in animal crates. Once you find a shelter in need, arrange a time to drop off the pillows. Or bring pillows to a thrift store or charity near you if they are still in fair shape, with no holes, stains or lumps.
Step 4
Reuse the pillows as a pet bed if you have animals. If you garden, cover the pillows with vinyl casing and use them as knee protectors when you work in the garden.
Step 5
Throw the pillows in the garbage if you're unable to reuse them around your home or donate them in your community. If your community doesn't pick up trash, take your plastic bag of pillows to the landfill.