Things You'll Need
Store-bought duvet or sheets for making duvet

Buttons, ribbon or velcro

Sewing machine

Thread

Fabric to cover curtain

Shovel

Compost

Scissors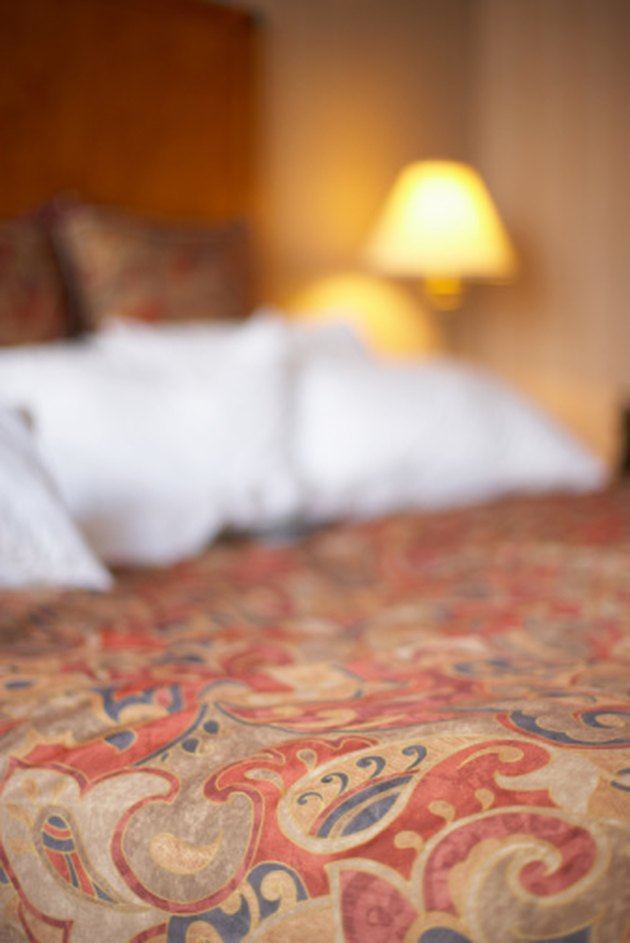 Think twice before recycling an old comforter by cutting up its organic materials and adding them to a compost heap. The comforter may be right for someone else; bedding in good condition can be donated. It can also be updated by re-covering it to match new bedroom decor. Innovative possibilities for reuse include incorporating the comforter into a thermal window covering, a dog bed or a mulch layer intended to kill weeds in a "start-over" garden area.
Step 1
Donate old comforters and other bedding in good condition to thrift shops and organizations such as homeless shelters. The NJ.com website notes that a volunteer in New Jersey saved tons of usable bedding from the garbage by contacting hotels that were dumping the materials. The volunteer coordinated deliveries of donated bedding to thrift shops and shelters.
Step 2
Re-cover the comforter. Purchase or make a stylish duvet, which is a comforter cover — a large, cloth bag that fits over a comforter and is closed at the opening with buttons, ribbons or velcro. Use color coordinated flat sheets for the fabric, the All Free Crafts website suggests. Cut out both sides 1 and 1/2 inches wider and 3 and 3/4 inches longer than the comforter to allow for seams and a hem at the opening.
Step 3
Insulate single-pane windows in older homes with cozy thermal curtains made from old comforters. Or, if the comforter is no longer attractive, use it as filling for the curtain. Visit Sustainablog for directions about how to cut, sew and hang the curtain. The website notes that thermal curtains are an inexpensive way to save energy costs.
Step 4
Make a dog or cat bed from an old comforter. Pets especially like woolen bedding. The Kushtush Organics website says to fold the comforter in half and then in half again, then stitch the open edges. But check the bed regularly to be sure pets aren't ripping out the stuffing. Animal shelters don't accept old comforters due to this reason.
Step 5
Use worn-out comforters to suffocate weeds in out-of-control areas of the yard, Kushtush suggests. Lay the comforters over the weeds and pile compost on top. If the comforter contains non-biodegradable materials, such as polyfill, remove it from the garden bed once the weeds are gone.
---
Alicia Rudnicki's Library Mix website blends book buzz for all ages. A gardener, she writes for California's Flowers by the Sea nursery. She has a Bachelor of Arts in journalism from UC Berkeley, a Master of Arts in education from CU Denver, and has taught K-12.