Things You'll Need
Mop

Bucket

Water

White vinegar

Rubbing alcohol

Dish soap
Warning
This cleaning solution will remove any film caused by normal buildup, but for tougher jobs it is recommended that you seek professional assistance from a flooring professional, who can give you professional advice on how to clean your particular flooring.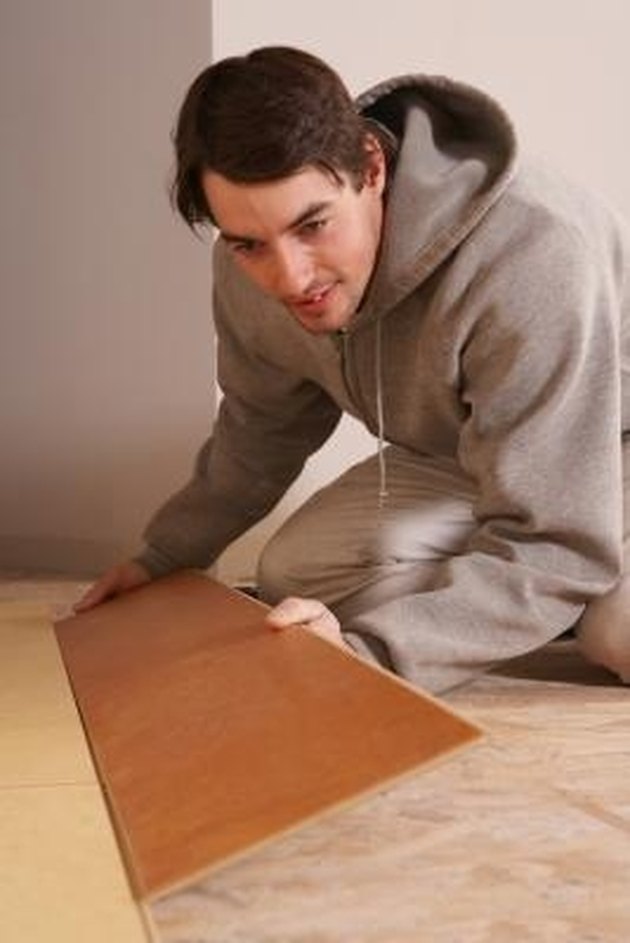 Laminate flooring simulates the look of hardwood flooring, at only a fraction of hardwood cost. Laminate is made by compressing several layers of wood, topped off with a wood grain that provides the hardwood effect. Laminate flooring is finished with a gloss protective layer that should be maintained properly to keep the floors looking their best. Using the wrong cleaning products, combined with normal wear and tear, can sometimes leave the laminate floors with a film coating that dulls the appearance of the flooring.
Step 1
Pour 1 cup of warm water into a bucket, along with 1 cup of white vinegar. The vinegar will disinfect the floors, while also cleaning and removing film.
Step 2
Add 1 cup of rubbing alcohol to the bucket, which will break through the film, without harming the laminate finish.
Step 3
Pour a squirt of liquid dish soap into the bucket as well, which will cut through grease and residue, while leaving behind a streak-free shine.
Step 4
Agitate the bucket to combine ingredients. Dip a mop in the solution.
Step 5
Wring the mop out, to twist out as much water as possible. The goal is to use a damp mop; too much water can damage the laminate flooring.
Step 6
Mop over the floors as you normally would, applying extra pressure to areas with heavy film. Repeat as needed until all film has been removed from the laminate flooring.
Step 7
Wipe over the floors with a dry, clean mop to collect any excess moisture.
---
Mel Frank is a professional freelance writer with over 15 years of writing experience. She has completed a wide variety of writing assignments for a number of publications that include CNN and various websites. Frank received a Bachelor of Fine Arts from a prestigious university in Pennsylvania.