Vinyl siding has many advantages, but one thing you must not do is put holes in it. That presents a problem when it's time to decorate with light strings for Christmas or other occasions. Nails, tacks and cup hooks are not an option. However, there are products available that let you hang your lights and other decorations securely without fear of damaging your siding. Specialty hooks made for vinyl siding, or various types of adhesive hooks, meet these needs -- and most can be installed without tools. Before you begin, check your light string for signs of wear or damage, such as a frayed cord or loose sockets. Plug in the lights and check that all the bulbs illuminate. Replace any damaged cords or burned-out bulbs.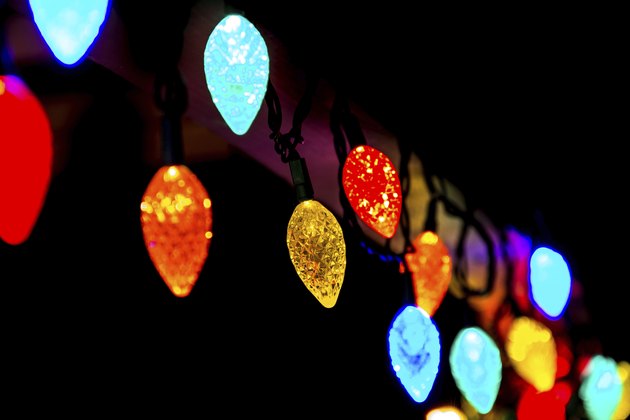 credit:
idesignimages/iStock/Getty Images
Step 1
Measure the distance of the light string path to determine the number of hooks you need to use. Typical installations require one hook for every 2 feet of light string; this can vary, so check your product recommendations.
Step 2
Install the hooks, following product directions, along the desired path of the light string. Vinyl siding hooks typically install by inserting the hook under the bottom edge of the siding piece. Adhesive hooks require a clean surface for mounting. Wipe the spot where you will place the adhesive hook with a paper towel or cloth moistened with all-purpose cleaner, and then dry the spot with another towel. Adhere the hook in the cleaned area and allow the adhesive to set for an hour, or according to product directions, before you hang the lights.
Step 3
Hang the light strings on the hooks. Some hooks have a flap or catch to hold the strings securely during windy conditions. If your product does not have this feature, use a nylon cable tie with each hook to secure the light string. Slip the cable tie through the holes in the hook; fasten the tie around the light string, and trim the end with scissors. Twist ties or twine are alternatives to cable ties.
Step 4
Plug the light string into an outdoor-rated power source.