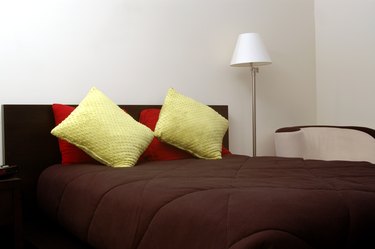 A bedspread is a thin top layer of bed-covering that falls over the sides of the bed and covers both the mattress and box spring. The size range of bedspreads varies to allow for the practical and decorative choices while still achieving equal length between the edges of the bedspread and the floor.
Size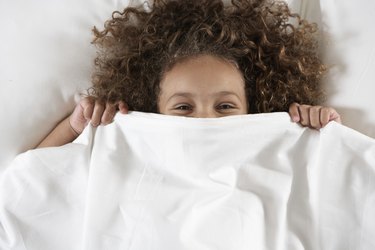 A queen-size bedspread will range in size from 88 inches by 108 inches to 99 inches by 114 inches. This size range is designed to fit a standard queen-size mattress which measures 60 inches by 80 inches.
Bedspread Length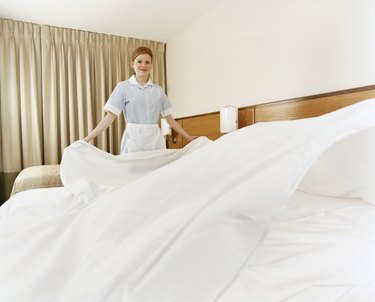 A queen bedspread toward the longer size range will allow length to tuck under and cover the pillows. This is a style that keeps pillows clean and is typically found in hotels and motels. A shorter bedspread would lay under decorative pillows and shams.
Bedspread Width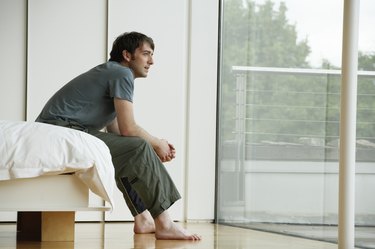 A queen bedspread toward the wider range will allow width to achieve a drop length over the sides of the mattress to reach the desired clearance from the floor. A narrower and shorter bedspread may be chosen when using a dust ruffle that covers the box spring.
Effect of Mattress Depth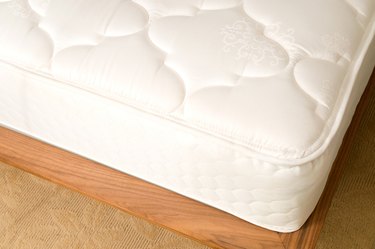 Bedspreads vary in width and length because mattresses vary in depth. A thicker, pillow-top style of mattress will require a larger bedspread to reach the floor with a standard bed-frame height.
Position of Bed in Room
A bedspread is sized and designed to drape over the sides and bottom edges of the bed. Only a minimal drape allowance of a few inches at the top edge of a bed is required since a bed is typically pushed against a wall at that end.
---
A Seattle-based freelance writer, Christina Roberts began writing professionally in 1990. Her articles have appeared in "Florida Design Magazine," "Miami Home & Decor," "Palm Beach Design," "The Cheese Connoisseur Magazine," "The Silicon Valley Business Journal" and the "San Francisco Business Times." She holds a Bachelor of Arts in journalism from San Jose State University.