Bed sheets and sizing can be befuddling. Some sheets fit like a glove, while others snap back from the corners or create puddles of fabric in the middle of the bed. Whether you are attempting to fit your dorm room bed, your new RV sleeping areas or a comfortable king with layers of padding, there are ways to find bed sheets that will create a comfortable respite in your room.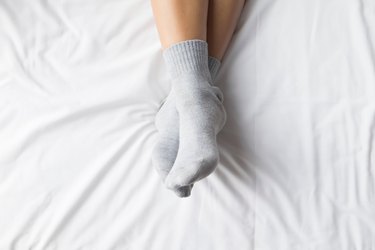 Sheet Sizes for Different Measures
There are sheets – and then there are the sheets that work best for all you have to work with. These sheets can make your bed the place you can't wait to land in at the end of the day and will offer comfort at any time of the day. This includes a mattress protector, gel pad, mattress topper or another comfort layer that will affect the size of sheet you need. If you have any of these, the width and depth of the mattress will change. The more layers you add to the mattress, the larger the sheets will need to be, from the fitted sheet to the final top sheet. If not, you may end up wrestling with ill-fitted sheets as you attempt to get a good night's rest.
Standard Sheet Sizes
The standard twin sheet dimensions are 39 inches by 75 inches, with the twin XL longer by 5 inches. The sheets for the twin size are 40 inches wide and 76 inches long for a fitted sheet. A full bed is 54 inches by 75 inches with the fitted sheet measuring 55 inches wide by 76 inches long. A queen is 50 inches by 70 inches with a 62-inch wide and 82-inch long fitted sheet. Finally, a King is 76 inches by 80 inches with a fitted sheet that is 78 inches by 82 inches.
Most beds have a depth of 8 to 17 inches for a fitted sheet, but a California king is larger by 4 inches. Flat sheets are a minimum of 26 inches wider and 8 inches longer than the bed they are intended for.
RV Sheets and Bed Sheets
Sheets that fit the different size beds in a recreational vehicle can be hard to find. A queen-size residential sheet may not work well with your RV's queen bed. If you are looking for a tight fit for your RV beds, you may need to adjust the sheets you have or buy specific RV sheets. You can make them yourself by adjusting standard sheets to fit your sleeping area. There are many companies that sell zippered sheets that offer a snug fit to a recreational vehicle bed. Camping and outdoor big box chains offer a wide selection of sheets just for RV owners.
---
Kimberley McGee is an award-winning journalist with 20+ years of experience writing for a variety of clients, including The New York Times, Las Vegas Review-Journal Home section and other national publications. As a professional writer she has researched, interviewed sources and written about home improvement, interior design and related business trends. She earned a B.A. in Journalism from the University of Nevada, Las Vegas. Her full bio and clips can be viewed at www.vegaswriter.com.
View Work