While West Hollywood's E.P. & L.P. stretches over multiple floors and features a wide Southeast Asian menu, it's the property's fun-loving aesthetic that creates a unifying theme. Electric greens and blues complement metallic details on minimal overhead lights, and see-through chairs comprised of bright elastic cords keep the furniture from feeling stuffy. It's a master class in cohesion that's brought to life by Australian design firm Projects of Imagination. The three dining areas — E.P. Asian Eating House, L.P. Rooftop bar and a secluded spot for private parties — share elements of wood, metal and saturated pigments, and yet, each space is still made to feel distinctive. Start at E.P. to see how copper elements and stylish shades work in an enclosed space, and then move upstairs to L.P. to view how that same palette is reimagined for the open air. It's a detail-oriented and confident design that comes off as inventive as chef Louis Tikaram's dishes.
1 of 5
E.P.'s color palette opts for electric greens and blues, but the tan dining sets keep it from getting too kitschy. Projects of Imagination worked with Fair Furniture to custom-make the restaurant's dining chairs, and hired a local Los Angeles metalworker to create the copper light fixtures.
Image Credit:

Laura Bertocci
2 of 5
The dining room's main element is the marvelous copper-wrapped bar, where the hippest Angelenos order drinks like the Rocky Balboba, which features orange boba pearls.
Image Credit:

Laura Bertocci
3 of 5
Out on the 5,500-square-foot L.P. Rooftop, diners enjoy a spectacular view of the Hollywood Hills. Remember the blue dining room ceiling and planters from inside? That color palette translates to the outside through the seating. The chairs and stools were also custom-made by Fair Furniture.
Image Credit:

Laura Bertocci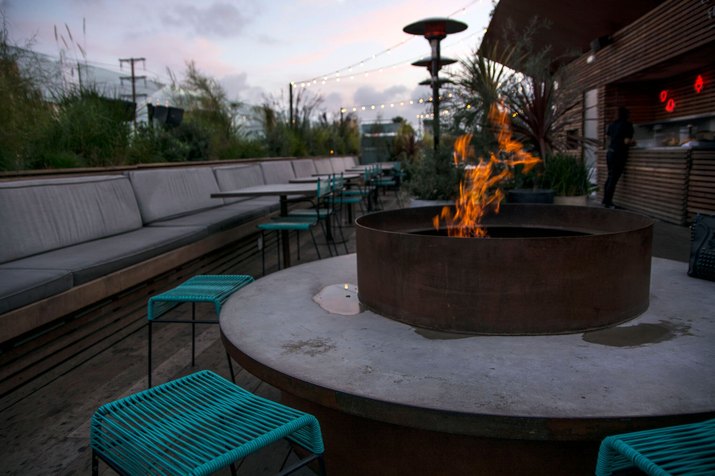 4 of 5
Even though L.A. is warm year-round, a fire pit is an outdoor lounge area essential. Backless stools surround the pit in the same materials as those around the nearby tables.
Image Credit:

Laura Bertocci
5 of 5
In the corner of L.P., there's a private spot for events called Frankie's Bar that's secluded by wood panelling. The bar, which was named after D.J. Frankie Knuckles, includes a neon sign of his lyrics that has been featured in many an Instagram post.
Image Credit:

Laura Bertocci
---