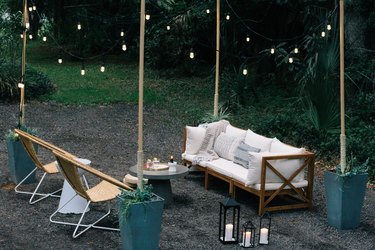 As summer turns to fall and holiday gatherings inch closer, we can't help but ideate our dream hosting haven. One of our favorite spots to spruce up is certainly the outdoor setup. And nothing makes hosting easier than electronics (think string lights, ceiling fans, and seasonal decor) controlled right from your smartphone.
This leads us to our current obsession: The Home Depot's Hubspace technology. Simply scan any compatible smart product's QR code in the accompanying app and monitor all the settings from the convenience of your device. (Plus, you can integrate with Google Assistant and Amazon Alexa, allowing you to control everything in the home with just your voice.)
We rounded up our favorite Hubspace-compatible products that'll make your backyard vibes the talk of the town. From sconces and landscape lighting to smart doorbells and deadbolts, check out our top picks for autumn entertaining below.
A patio is nothing without string lights. And with this Hubspace-powered set you can change the color of individual bulbs, adjust brightness and light flashing speed, select a preset theme, or customize your own. The best part? You won't have to go back outside if you forget to turn them off.
Drink and chat all night long in the glow of these frosted glass path lights. We are in love with the quality and simplicity of this modern pick.
Still steamy where you are? An outdoor fan is an absolute must.
Stay on call while grilling it up in the backyard with this doorbell that sends notifications straight to your smart device.
Take your smart home (and party) game up another notch with this aged bronze deadbolt that can be locked and unlocked remotely. It also comes in matte black and satin nickel finishes.
'Tis the season for color-changing rope lights. Keep it classy with an all-white look or jazz it up with the full rainbow.
Hang a few of these modern wall sconces around your outdoor digs. Once the gathering begins, you can change up the light color based on the crowd's mood.
Light the way with ease and style.
Landscape lighting is a must for evening gatherings.
This power stake turns six electronics into Hubspace-compatible devices.
Control three devices individually through your app with this smart landscape transformer.