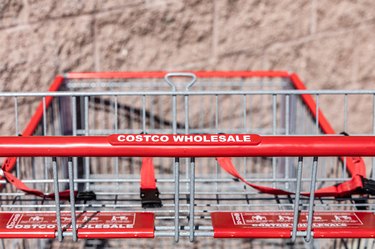 It's hard to talk about Costco without acknowledging its elite bakery section. After all, the department is known for its oversized desserts and seasonal treats, like the brand new four-berry pie. Costco's bakery also offers custom cakes — but its current ordering system might make you do a double take.
Here's the deal: To request a custom cake at Costco, you'll need to visit your warehouse two days in advance. Once there, you'll have to fill out an order form and place it in a box. The form lets you choose the size, flavor, design, and writing on the cake.
According to the Costco website, this is the primary way to order a custom cake. Some locations might accept fax orders, but otherwise, placing a paper in a box is the way to go. It's not possible to call the bakery or request a cake online, which is the norm for most bakeries.
Needless to say, the cake box system has caused quite the buzz on social media, and it's not just because it's "old-fashioned." Per Eat This, Not That!, shopper Lucy Huber took to Twitter to share her experience with the box, and the process is actually pretty stressful.
"Ordered a cake from Costco and their system is from the 1800s, you write what you want on a piece of paper and put it in a box, then nobody follows up," said Huber in her tweet. "You just show up and hope they made it? I tried to call to confirm and they were like, 'If you put it in the box, it will be there.'"
Needless to say, trusting the process without a confirmation email (or follow-up call) can be be anxiety-inducing for some people. Case in point: On Twitter, some shoppers shared the system would give them anxiety. Yet other users assured people that the process actually works.
"It will be there. I love Costco cakes and bought a ton of them over the years," said one person, noting that they've never had a problem with the system. "I was concerned the first time too, but it has always worked out."
In case you're wondering, to everyone's relief, Huber's cake ‌was‌ there and ready to go. To learn more about what people think about Costco's mysterious "cake box," check out the viral Twitter thread right here.