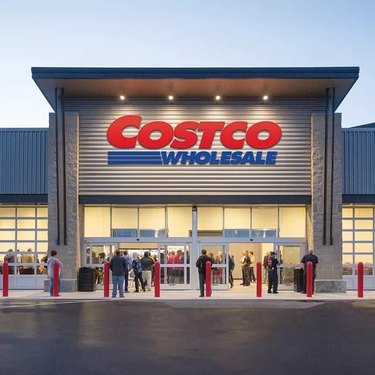 Seismic news has been rippling through Costco nation, as a beloved food court item appears to be making its triumphant return.
In a Reddit thread created a few days ago, an eager Costco shopper shared that the chicken Caesar salad was available at their local Costco in Cranberry, Pennsylvania, for the first time since the pandemic hit. "Seen this week outside of Pittsburgh at the Cranberry warehouse. A jump in price, but happy to see this old friend return to the menu," they wrote, accompanied by a picture of the salad sign.
The Costco faithful are a loyal bunch, so of course, many shoppers have responded with enthusiasm for the salad's resurrection in the post's comments, while others expressed scrutiny. This new iteration of the salad is $6.99, as compared to its original $3.99 price, which some have taken issue with. This price hike is likely due to an upgrade in the chicken that's being used in the salad; the new salad features rotisserie chicken breast, while the old version was composed of strips of chicken.
Of course, there's no pleasing everyone, but a Reddit user who claims to be a Costco employee says that the new chicken is definitely worth it. "Employee here, and they made some sample salads for us to try a week ago! They were so good; the chicken was definitely a huge upgrade!!!" they said.
One commenter sagely added that the price increase still makes for a great deal on a Caesar salad, especially when Costco's current food court offerings lack healthier options. Bringing this salad back fills that void. A nationwide rollout of the Costco chicken Caesar salad remains up in the air, but hey — at least we have hope!