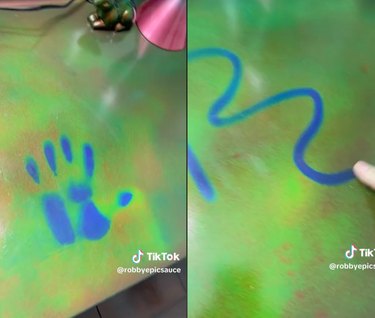 Anyone born before the millennium knows the magic of a mood ring. Deeply nostalgic, mood ring technology felt like an invitation to a fantastical plane of existence just beyond reality. This sense of wonder associated with mood rings has endured to this day, as evidenced by this mood ring paint bathroom TikTok that's gone viral.
TikTok user Robby teamed up with their friend and fellow DIY TikTok persona Ali Spagnola for the project, covering surfaces of their bathroom with the thermochromic paint that changes from dark hues to luminescent green and blue tones with the application of heat.
The mood ring paint is incredibly responsive, which ​​Robby shows us by placing their palm on the bathroom vanity counter, swirling their finger around the same area, and then turning on the hot water. The paint immediately responds to each of these acts, igniting in a bright, radioactive lime green color.
Where to Buy Mood Ring Paint for Your Bathroom
Where does one acquire such magical mood ring paint? The Liquid Crystal Mood Paint is available for purchase at Solar Color Dust, where it's described as being able to shift between 12 colors — from red to yellow to green to blue to purple to pink — depending on the level of heat it's exposed to between 60 and 90 degrees Fahrenheit.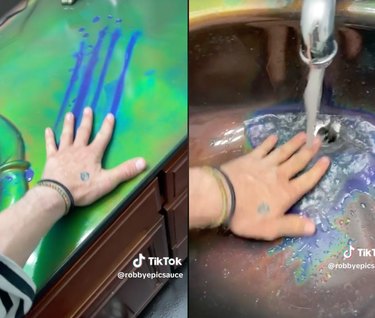 In a follow-up video, Ali Spagnola goes into greater detail about the arduous process she and Robby embarked upon to execute the mood ring bathroom theme using the Solar Color Dust Liquid Crystal Mood Paint.
Bathroom items they wanted to paint were brought into a workshop to first be painted with a black base coat. This included the toilet, bidet, Squatty Potty, toothbrush holder, and trash can. They then coated other portions of the bathroom black as well, like the counter, sink, and floor. Once the black layer was applied to everything, they sprayed it all with a coat of the Liquid Crystal Mood Paint using a high-powered airbrush.
Mood ring paint for the bathroom feels like just the tip of the iceberg in terms of the fun that can be had with this color-changing technology. Who's going to take on painting their entire house in Liquid Crystal Mood Paint? Now ‌that‌ we'd love to see!