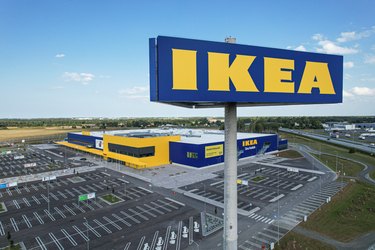 Memorial Day might just be one day out of the year (May 29, in case you forgot), but Memorial Day sale season has already started. In preparation for all of the forthcoming summer fun that awaits just around the corner, be sure to take advantage of Memorial Day deals now.
In particular, IKEA's Memorial Day sale can't be missed, which runs now through May 29. The retailer is slashing prices by up to 40% on outdoor furniture, umbrellas, lighting, kid's furniture, shelving, flooring, appliances, food, and more.
Two bonus IKEA Memorial Day deals:
From May 27 to May 29, if you eat in IKEA's restaurant you can get a coupon for up to $40 to spent on same-day, in-store purchases of at least $150.
Through May 31, new customers can get $20 off any TaskRabbit project with the code OUTDOOR20.
The best product deals from the ongoing IKEA Memorial Day sale:
This outdoor table for 40% off is perfect for your spring and summer cookouts.
A foldable outdoor chair that could fit on a balcony, patio, or simply in your yard. Plus, it's 20% off!
This decorative table lamp is battery operated, provides the perfect glow, and is 20% off. What more could you ask for?
Made for both indoors and outdoors — and currently 20% off — this easy-to-clean chair is perfect for all your kid's seated activities.
For those looking to get a deal on a more sizable purchase this Memorial Day, check out IKEA's stainless steel French door refrigerator, which is now 20% off.
If foldable chairs aren't your thing, this outdoor armchair for 40% off might be a better fit.
For 20% off, you can get these deck tiles that will completely transform your outdoor space.