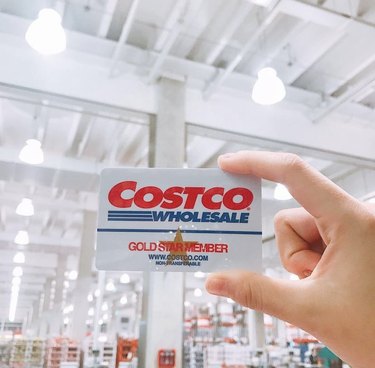 To many Costco fans, there is nothing more satisfying than munching on a $1.50 hot dog and soda combo after shopping at the warehouse. The price simply can't be beat, and who doesn't love a Costco hot dog? But ever since the COVID-19 pandemic, customers have been a bit upset since a key condiment, diced onions, had been removed — that is, until now.
Instagram creator Costco Buys recently shared that a sign was spotted in a Costco warehouse in the Pacific Northwest announcing that diced onions would soon be returning to the food court. According to the sign, customers will be able to access small, individual plastic cups of diced onions from a refrigerator. This is ‌very‌ exciting news to members, since a Costco hot dog just hasn't been the same without the onions.
To ensure that your local food court has officially brought back the onions, simply do what you'd do to check for Costco store item availability. Just give your warehouse a call and they should be able to give you that information — that way you're not wasting a trip!
The Costco food court menu has seen a number of changes over the past few years, and now that this well-loved condiment is making a grand return, the comment section is a flurry of what should be next, including requests for combo pizza, sauerkraut, and turkey provolone sandwiches. It's unclear whether Costco has plans to bring back other menu items, but in the meantime, members can look forward to hot dogs topped with onions very soon.