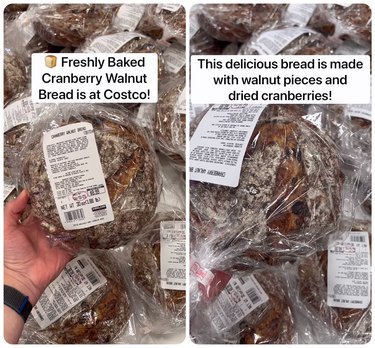 Walking through the bakery section of Costco is always a treat. The wide array of baked goods, like jumbo-size muffins and croissants, would make anyone's mouth water, and if you're a fan of fancy bread, you'll be excited to read about Costco's most recent find.
According to Instagram creator Costco Buys, the warehouse is now offering Costco cranberry walnut bread. Yum! This seasonal loaf has been on shelves before, and it contains small pieces of walnut and dried cranberries throughout. It's priced at $8.99 a loaf.
Needless to say, Costco customers are excited to see this bread back in stock. "It's soooooo good with some brie cheese, honey, and almonds!" one user shared in a comment on Instagram. Another added that this bread makes great French toast. Both sound delicious, and if you have your eye on trying this loaf, be sure to scoop it up while it lasts!
Before you head to your local warehouse, however, you'll first want to make sure the cranberry walnut bread is in stock. To do so, you can easily check for Costco store item availability by giving your nearby store a call.