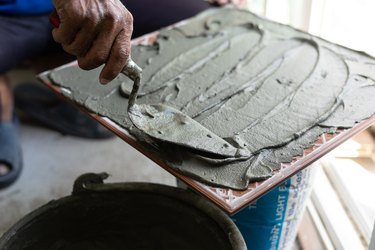 Your plans for a bathroom or kitchen reno will benefit the industry's bottom line, but what about your own? While improving your home has the potential to increase its value, it's unlikely that you'll fully recoup the investment you put into it. Before you waste time and money on costly home improvements, consider the following reasons to keep things just as they are.
Reason #1: You're Overimproving Your Home
"Comps" is a word that gets thrown about quite a bit in real estate. It's short for comparable properties, which are recently sold homes in your area that are similar to yours. And as it turns out, having the nicest-looking home on the block might not be such a good thing.
"If you're considering a home renovation project, it's important to weigh the potential benefits against the cost," says Andrew Latham, certified financial planner and director of content at SuperMoney. "It's possible that the expense of the renovation may not be justified by the added value it brings to your home, especially if your home is already at the top of the price range for your neighborhood."
Adie Kriegstein, a licensed real estate salesperson and founder of the NYC Experience Team at Compass, recommends talking to a real estate professional about the potential ROI (return on investment) for a planned renovation and seeing how it might stack up to the comps. "For example, if you add an expensive swimming pool to a neighborhood of smaller homes where no one has a pool, you may not get the full value of your investment back when you sell," she says.
Reason #2: You're Tight on Time
Even the most well-planned and well-funded improvement projects rarely stay on schedule. If you hope to sell your home this season, consider whether the reno will be worth waiting several more months.
"It might be better to sell for a little less and just do the minimum to have the [property] look clean for showing," says Jacqueline Kurtz, a broker at Coldwell Banker Warburg.
You'll also have to consider that the renovation might not even do much to increase your net sale. ‌"‌The cost of renovating is high now, and you would also risk renovating in a style that doesn't work for a buyer, and they would still want to renovate again and not pay for your work," Kurtz explains.
Reason #3: You Don't Have a Clear Vision for a Renovation
Not sure what you want to change or redesign in your home? Unless you have unlimited funds, it might be better to hold off until you do.
"If you don't have a clear vision for what you want to do, you may end up spending even more time and money on the project as well," says Kriegstein. "In the end, it may not even meet your needs or desires."
Reason #4: It's a Buyer's Market
Limited inventory and high buyer demand have kept the market in favor of the seller for the past few years. But should things start to swing toward the buyer, you'll want to spend your renovation dollars carefully, says Cam Dowski, founder of We Buy Houses Chicago.
"It's important to think about the current state of the housing market and whether there is a demand for your particular type of property if you intend to sell your house," he says. "Expensive renovations might not generate a sizable return on investment in a buyer's market, where there are more homes for sale than there are potential buyers."
Reason #5: You're Customizing the Design Too Much
It's your house and your rules when it comes to design. But be prepared for some buyers who won't be willing to play the game.
"What I see most as a real estate agent is when one does a renovation that is too specific to their personal taste/preferences," says Kriegstein. "Overpersonalizing a renovation means in the future when you sell, it likely won't appeal to as many potential buyers." She uses the example of going too bold with kitchen or bath tile colors or wallpaper. While these things can be swapped out, it'll take money and some elbow grease, which might not bode well for buyers.
However, if you have a real issue, like a leaky roof, for example, you should probably address it sooner rather than later. "Some renovations help a home maintain its value, while doing nothing reduces a home's value," says Mihal Gartenberg, a broker with Coldwell Banker Warburg.
Amanda Jhones, a real estate agent also with Coldwell Banker Warburg, agrees that homeowners should prioritize necessary repairs (especially common repairs that pop up on an inspection) if they want to list. "If there's a crack in the ceiling or a hole in the floor, fix it," she says, but avoid renovating to suit ‌your‌ preferences. "If you're selling your home, you should not try to create a lifestyle based on how you want the new owner to live," she says. "A person's home is a salute to their personal lifestyle."
Reason #6: You're Attempting to DIY It
Even if you've already tested your burgeoning DIY skills on a smaller project, you'll want to think long and hard before diving into any extensive projects with your own toolbox.
"While DIY projects can save you money, they can also hurt your bottom line if they are not done properly or do not meet building codes," says Toni Gambill, broker associate and team leader at LPT Realty in Florida. "Avoid DIY projects that require significant skill or knowledge, such as electrical or plumbing work."
Reason #7: You're Messing Too Much With the Layout
An open floor plan or a spacious primary suite might be alluring for some buyers but not if they come at the expense of individual bedrooms and storage space. In particular, a garage-to-living-space conversion is one such move that could backfire, says Latham.
"While this may seem like a great way to add square footage to your home, it can be expensive and may not be seen as an advantage to potential buyers," Latham explains. "In some cases, converting a garage can cost upward of $20,000, and many buyers prefer to have a garage for storage or parking, so removing this feature may limit your pool of potential buyers."
One Reason You Should Renovate
So many renovation discussions focus on resale value. After all, who doesn't want to get at least ‌some‌ of their money back when they invest in their home?
But what if you've just moved into your home and want to make a few upgrades? Or perhaps this is your forever home and you have no plans to sell? If the purpose of your renovation is to make your house more livable, enjoyable, or simply feel more like home, then get a quote from that contractor, hire that designer, or do whatever else you need to do to get the ball rolling on your renovation project.
"The bottom line is that buyers should consider whatever renovation projects they take on as a pleasure and work hard not to make it a financial yoke that will tie them to the same home for years to come, even when they want to move," says Gartenberg. "That balance comes less with whether or not to renovate and more with choosing the right team, materials, and budget for the renovation project."