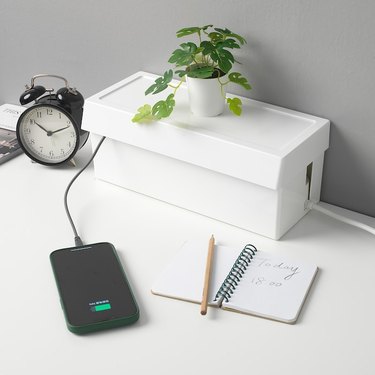 When it comes to perfecting your home office setup, nothing is more of a buzzkill than random cords all over the place. Cable management is key for keeping wires out of sight and out of mind, and IKEA just released a convenient and affordable way to keep pesky cords hidden.
The Sätting is a simple white cable management box that is perfect for hiding a power strip and the cords that plug into it. The box itself is small enough to sit on top of your desk without taking up too much space, or you can also place it on the floor to be a bit more discreet.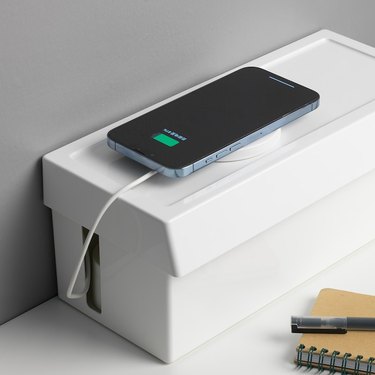 The lid is slightly larger than the box itself, so there's easy access for phone and tablet charger cords to be out of the box without the lid resting awkwardly on them. There is also a small slit on either side of the box for cords to peek out as well.
Since the box has a lid, it can also be used as a surface for decor, such as a small desk plant or as a spot for your wireless phone charger. Coming in at just $6.99, this is a highly affordable option for keeping your cables organized and is a must for any desk space.
If organizing your desk turns into a home office makeover, IKEA recently launched interior design services, so if you're in need of some one-on-one design expertise, IKEA has you covered. Be sure to ask a sales associate for more information the next time you're browsing the store.