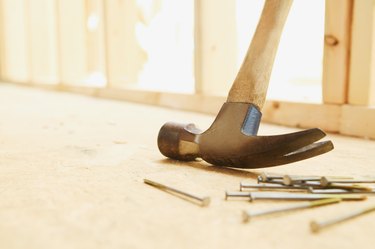 Your home is your home, and it makes sense to customize it to your own tastes and needs, but if you hope to sell in the next few years, consider the return on investment you'll get after sinking money into a home renovation. While many home improvement projects will pay off big time when you sell your home, others may be personally rewarding but provide a terrible return on your investment (ROI). We talked to a variety of experts in the real estate, home design, and landscaping industries to find out what projects homeowners should avoid if hoping to recoup their money after they sell their home. Here are the worst renovations to do in terms of ROI.
Tip
The term ROI when it comes to improvements for selling a home isn't the same as when it's used in finance. Typically, most home improvement projects have a negative ROI in the financial sense because the project usually costs more than the amount that it raises the sale price. In this context, the ROI is more accurately the amount that you can expect to recoup from your investment, rather than a net profit.
That said, certain upgrades can generate more interest in your home, which can be an unquantifiable asset when selling.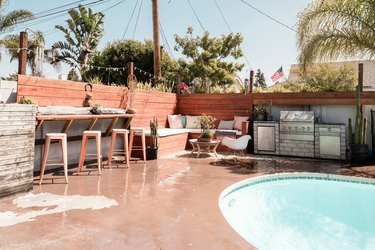 A pool is a perfect example of a home renovation that can provide immense personal satisfaction while failing to provide a good return on investment. Sources estimate that nationally, an in-ground pool will only give a return of 4 to 8 percent, which is particularly poor when considering that a pool costs around $55,000 on average.
There are many reasons a swimming pool may turn off a buyer:
Pools may be dangerous in homes with children, pets, people with disabilities, and senior citizens.
Many buyers prefer to use their backyard space for other purposes, such as landscaping.
The time and expense of maintaining a pool can be draining, especially in cooler climates where the pool must be winterized.
In most climates, they're only used during the summer.
Nikki Thomas of Backyardville tells Hunker, "[Some buyers may demand] you tear it out during negotiations to free up outdoor space and make room for the projects that would benefit them more."
Of course, you should always consider local real estate trends before deciding against doing a project purely based on resale value. While pools might be bad investments in most of the country, they can pay off big time in some areas. In Los Angeles, for example, a pool can add nearly $100,000 to your home's value, making it an incredibly worthwhile addition to a property.
While replacing your garage door can provide an ROI of over 100 percent, that's about the extent of garage improvements that homebuyers are willing to pay for. If you spend a lot of time working in your garage or hanging out in it, you may consider it worthwhile to upgrade the space, but don't make these improvements hoping to get your money back when you sell. Finishing the space with new drywall, paint, improved lighting, workbenches, more electrical outlets, and epoxy flooring will rarely pay off financially because the garage isn't considered a living space, so these improvements won't add to your appraisal value. Additionally, most buyers only want to use the garage to park their cars and store their stuff, so they'll rarely pay extra for a garage with bells and whistles.
Upgrading your garage can easily cost upward of $10,000, but Pratik Pathapati, founder of Rework Cash Offers, tells Hunker, "Unfortunately, this may only add a few thousand dollars in value, which means you'll have a return of only around 20-30 percent." It's worth noting that other real estate experts we spoke to said they saw absolutely no increase in home value after making these improvements. Pathapati added that while epoxy flooring is nice, "I would only do it in a luxury home where it may be expected by the market."
Converting a Garage Space
Just as it may not be worth it to spend big bucks upgrading your garage, it is also a bad investment to turn your garage into a living space. While it's true that increasing your livable space can increase your home appraisal value, and that usually translates to a higher sale price, Americans value their garage space, even if one-third of them only use it for storage. Matt Moreland of Keller Williams Realty tells Hunker, "Converting the garage to a bedroom does add ‌some‌ value. However, in many cases, that value is overshadowed by the diminished utility of not having a garage to store/park vehicles." Garages are so crucial to buyers that homes without garages may sell for around 20 percent less than houses with them.
In the current real estate market, a new primary bedroom suite addition will provide sellers with an extra $47,343 on average. For a midlevel American home that costs $428,700, removing a garage can potentially bring the home price down $85,740, so converting your garage to a new primary bedroom suite can potentially make your home go down in value. With an average garage conversion costing $15,000, this project provides a whopping negative ROI of 256 percent.
Overly Luxurious Upgrades
Average Cost:
$76,827 for a bathroom
$154,483 for a kitchen
ROI:
36.7% for a bathroom
31.7% for a kitchen
Remodeling your bathroom or kitchen can help you maximize your enjoyment of these rooms and significantly increase your home's resale value. But that's only if you keep your renovations practical. If you opt for high-end upgrades, like custom cabinetry, designer plumbing fixtures, and top-of-the-line appliances, your returns will drop as your budget rises. In fact, while the ROI for a midrange kitchen and bathroom renovation is 41.8 and 66.7 percent, respectively, an upscale kitchen or bathroom renovation will only provide you with an ROI of 31.7 and 36.7 percent. In other words, you'd get 10 percent more of your money back with a midrange kitchen renovation and an incredible 30 percent more for a midrange bathroom remodeling job.
This poor return surprises many people, but as Carmelo Carrasco, interior designer, realtor, and founder of Axel Property Management, tells Hunker. "These [pricey products] are usually tailored to the homeowner's personal taste and may not be appealing to a potential buyer. My suggestion would be to stick to items that offer a timeless aesthetic, such as classic tile colors and stone countertops."
It's also wise to match the quality of products you use when renovating one room to the rest of your home. Dustin Singer of Dustin Buys Houses tells Hunker, "It's important to keep the features of a home in line with its overall value. Installing high-end features, like a gourmet kitchen or a wine cellar, in a home that is not otherwise upscale can actually make the home harder to sell." He also suggests that homeowners consider the surrounding neighborhood when making upgrades, explaining that homebuyers are unlikely to pay more for features or space that's not in line with the surrounding area.
Luxury Landscaping and Hardscaping
Most buyers don't want to move into a home on a dirt lot, but while adding a lawn may increase your selling price, don't expect pricey exotic plants, pergolas, lighted walkways, or raised garden beds to dramatically increase your home's value. Moreland, who is also a part owner in a landscaping company, says the project that can provide you with the best ROI is maintaining a green and well-cut lawn. He also says that having a well-maintained flower bed with in-season plants and flowers may not increase your selling price but will improve your curb appeal, attracting more buyers and helping you sell quicker.
"Some of the most expensive renovations you can do to a property are outdoors," warns Moreland. "As an example, you can quickly spend $40-50K adding a backyard garden, greenhouse, flower beds, and outdoor living space (walkways, fire pit, grill, etc.) and only get an additional $5-$10K upon resale of the home for these expensive upgrades." Of course, if you love spending time outdoors, there's nothing wrong with creating a backyard oasis, but if you plan to sell soon, remember that these projects have an ROI of only 10 to 25 percent.
Installing Wallpaper Rather Than Painting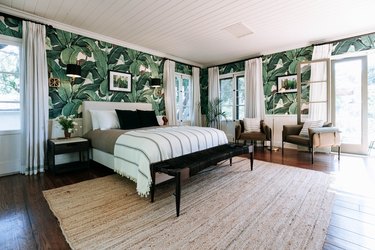 If you find a wallpaper you love, install it in your home if it will make you happy, but don't expect it to attract buyers. Unfortunately, because wallpaper tends to be so personalized, it has no return on investment and can even cause your home to lose value. Rinal Patel, founder of We Buy Philly Home, tells Hunker she has seen cases where clients have chosen not to buy a home purely because it has wallpaper they disliked. "It wasn't for lack of awareness that these wallpapers could be taken down, they simply didn't want to have to shoulder the extra cost of getting the wallpaper off the wall, which can be a messy and difficult task, and repainting the walls with a color that is more suiting," she says.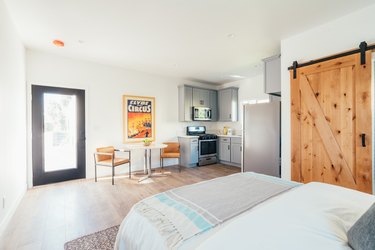 Perhaps one of the worst remodeling decisions you can make is adding a bunch of trendy "enhancements" that will be out of style by the time you want to sell. Remember how undesirable shag carpeting, conversation pits, and popcorn ceilings were in the 1990s? The same is sure to be true of pallet walls, shiplap, and barn doors in only a few years. While these renovations may be popular right now, they already have plenty of detractors who avoid buying houses with these details, and those numbers will rise dramatically as these trends fall out of favor.
Zach Dannett, co-founder at Tumble, tells Hunker that barn doors in particular have some of the worst ROI of all decor trends because they don't look good with most interior design styles. "Some buyers won't care about them and won't consider them as a deal breaker, but they may consider the cost of removing and replacing the barn doors [in] their offer." Considering that it costs an average of $1,825 to buy and install a sliding barn door, you should really think about how much enjoyment you'll get from having a barn door in your home because this pricey addition frequently has a negative ROI.
Expected Return on Low ROI Projects
| Project Type | Expected ROI | Average Price | Projected Change in Home Value |
| --- | --- | --- | --- |
| Swimming Pool | 7% | $55,000 | $2,200-$4,400 |
| Garage Upgrade | 20-30% | $10,000 | $2,000-$3,000 |
| Garage Conversion | -256% | $15,000 | -$85,740 |
| Luxury Bathroom Remodel | 36.7% | $76,827 | $28,203 |
| Luxury Kitchen Remodel | 31.7% | $154,483 | $48,913 |
| Luxury Landscaping | 12.5-20% | $40,000-$50,000 | $5,000-$10,000 |
| Wallpaper | 0% | $500 | $0 |