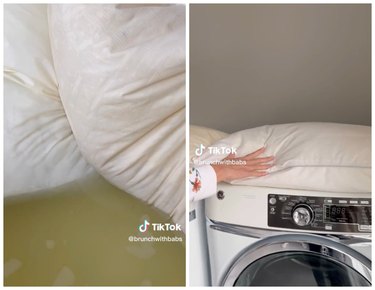 Daylight savings is a great reminder for kicking off spring cleaning in your home, and beloved TikTok creator Barbara Costello, better known as @brunchwithbabs, has an idea for where to start. When was the last time you washed your pillows? If it's been a while, this easy cleaning hack will have you marveling at just how dirty this bedtime essential really is.
At the start of the TikTok video, we see a tub filled with dirty water, thanks to a grimy pillow. The creator then shows two pillows: one that hasn't been cleaned yet and one that has. Needless to say, one is badly stained, while the other is clean and white. Costello shares that many manufacturers recommend replacing your pillows annually, but instead of shelling out a small fortune every year, Costello deep cleans her pillows instead using a process she calls "pillow stripping."
To begin stripping pillows, Costello fills a bathtub with very hot water and then adds 1/4 cup baking soda, 1/4 cup borax, and 2 cups liquid laundry detergent. After a quick stir, Costello adds the pillows to the tub, making sure they're fully soaked through by submerging them with a wooden spoon. After soaking for 24 hours, we now see the same disgusting water in the tub that started the video.
"What you're seeing here are body oils, excess detergent, fabric softener — everything your washing machine can't get out," Costello explains. After a quick squeeze to get the excess water out of the pillows, the creator adds them to the washing machine and runs a normal cycle without detergent. She recommends dryer balls or tennis balls instead of dryer sheets and offers a quick reminder to check the label of your pillows to make sure they're washer and dryer friendly. And voilà — clean pillows!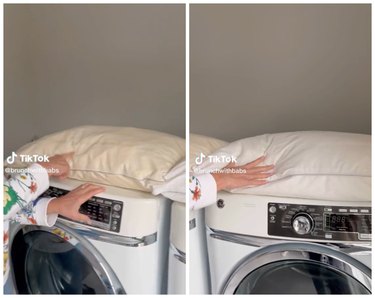 While dirty water and clean pillows offer a very specific feeling of satisfaction, you may want to skip pillow stripping if you have memory foam or down pillows. The process may not work the same, and you definitely don't want to be stuck with a pillow that smells like wet feathers.