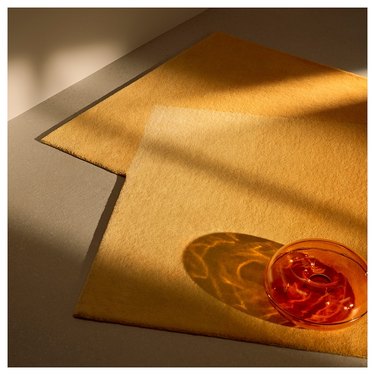 When it comes to home goods, the sweet spot we strive for is always a mix of style and function. You definitely want sturdy furniture and kitchen tools that will help you get dinner on the table in an effective way, but isn't it nice when those things are beautiful to look at as well?
Luckily for us, IKEA has lots of fun finds that are just as stylish as they are functional, and one piece that has caught our eye is a charming serving bowl that looks just like a donut.
Okay sure, you can toss fruit in a bowl, set it on your counter, and call it a day, but if you'd like a pop of style that is sure to be a conversation starter when you have guests over, the Varmblixt serving bowl would be a perfect addition to your kitchenware collection.
This dish is available in both orange and green, plus the round edges give it a striking resemblance to a small donut. This serving bowl even comes with a lid that absolutely seals the deal in terms of its sweet confectionary resemblance, but can also serve as a ‌second‌ bowl when not being used as a lid. It's like a two for one deal!
"When light passes through glass it creates a reflection, a spectrum of colors, or a shadow: a magical interaction which fascinates me," designer Sabine Marcelis shared with IKEA. "Another thing I'm very drawn to is the full, soft, and appealing donut shape. So, I decided to combine all of this when designing the serving bowl for the Varmblixt collection."
The glass does emit a really cool shadow and reflection, as shown in the first image above, making it perfect for a table that gets a bit of sunlight.
This would be great as a fruit bowl for your counter, as a coffee table staple filled with decorative items, or it could even stand alone as a piece of decor. The orange bowl has a 12-inch diameter, while the green bowl is slightly smaller at 7-inches. The entire Varmblixt collection is limited edition, so if you like what you see, be sure to head to your nearest IKEA, or check it out online ASAP.