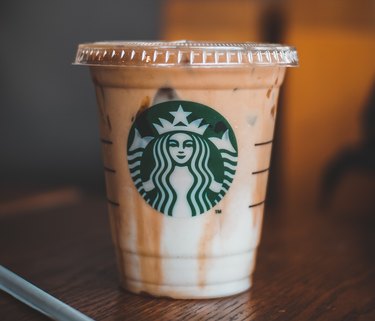 Starbucks has been known to craft mouthwatering drinks over the years, especially for both its fall and holiday menus — you can really never go wrong with a peppermint mocha. However, the coffee chain just revealed the latest addition to its lineup that has us feeling a bit puzzled, to say the least.
Coming to Starbucks locations across the United States this spring, the Oleato line will allow customers to add olive oil to Starbucks' Caffé Latte, Iced Shaken Espresso, and cold foam. "Oleato" translates to "with oil" in Italian, with Italy being the first country that was offered this concoction.
According to CNBC, CEO Howard Schultz traveled to Italy this past summer, which is where he observed locals drinking olive oil as a type of daily ritual. So, he began to do the same alongside his daily coffee, prompting the idea of combining the two.
The Partanna olive oil can be steamed with milk, shaken with the iced drinks, or infused into sweet cream foam. Customers will also be able to add a spoonful of the oil as a customizable option to their drink of choice.
Chief Marketing Officer Brady Brewer claims that olive oil makes beverages "richer" and may even appeal to the chain's health-conscious fans, as olive oil has been proven to reduce inflammation and boost heart health.
"Oleato represents the next revolution in coffee that brings together an alchemy of nature's finest ingredients – Starbucks arabica coffee beans and Partanna cold pressed extra virgin olive oil," said Schultz in a press release. "Oleato has opened our eyes to fresh new possibilities and a transformational way to enjoy our daily coffee."