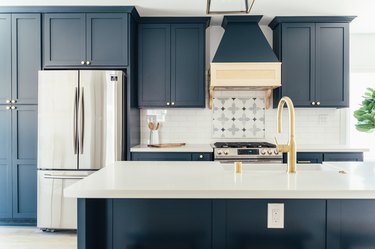 Let's face it — keeping the kitchen clean can sometimes feel like a full-time job. Sure, you can make it easier on yourself by cleaning as you go, but there's usually a lot going on at once, and the opportunity for spills, messes, and cross-contamination (we're looking at you, raw chicken) is typically high. However, the spot in the kitchen with the most germs isn't a cutting board, a countertop, or even the knobs for your sink.
According to a study recently published in the Journal of Food Protection, the highest amount of cross-contamination can be found on … your spice jars. To come to this conclusion, 371 people participated in the study by preparing turkey patties and a ready-made salad. Once the meal prep was complete, the team of researchers took environmental samples by swabbing utensils and surfaces to assess cross-contamination with MS2, a tracer organism that is safe for humans. The results ended up being a bit of a surprise.
Of the spice jars sampled, 48% contained MS2 cross-contamination, and spice jars had the highest concentrations across all kitchen surfaces. Compared to surfaces testing positive about 20% of the time or less, this is quite a jump.
"We were surprised because we had not seen evidence of spice container contamination before," Donald Schaffner, the lead researcher and Rutgers Agricultural Experiment Station's extension specialist in food science, told Food Safety News. "Most research on the cross-contamination of kitchen surfaces due to handling of raw meat or poultry products has focused on kitchen cutting boards or faucet handles."
Cutting boards and trash can lids were the second and third areas with the most contamination, with sink handles being the least contaminated area.
A good rule of thumb? Be sure to clean ‌everything‌ you touch once you're finished preparing your food, including the salt and pepper shakers and any spices you use. Wipe down containers with a soapy cloth and don't forget to wash your hands throughout the meal preparation process.