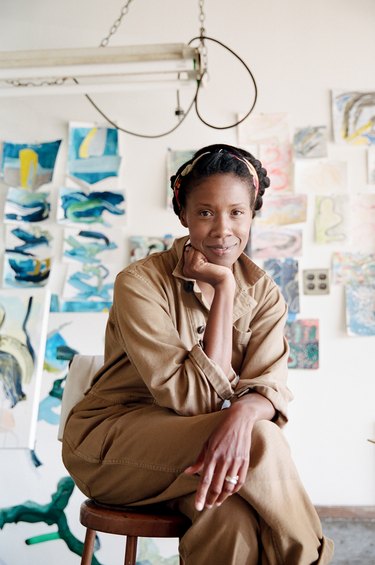 For Black History Month, we are highlighting the people and projects you should know about all year long.
This Black History Month, at both our real-life location Hunker House and online, we are spotlighting some of our favorite Black creators as part of our Black Spaces programming. That's why, when it came to outfitting Hunker House with artwork, we reached out to Saatchi Art, our sister brand, to connect with Black artists in Southern California.
Below, you can learn more about the artists whose work is currently being featured at Hunker House. And if you're in the Venice, Los Angeles area, come see their work in person on Abbot Kinney Blvd.
"As a child, I knew I was creative," artist Samuel Fleming Lewis tells Hunker. Born in Los Angeles in 1953, Lewis has equally split both his education and career between art and interior design — until 2014. That year, Lewis wanted to transition into becoming a full-time artist, so he sold his home in San Francisco and moved to Palm Springs. Though it took time and experimenting to develop his style, the creative found his way to the art of collage while developing his own type of portrait contour drawings.
"I've created my own technique of figurative or portrait contour drawings by feeling my own face or body while drawing, to use myself as a model," he says, describing these works as abstract and childlike. "I use photographs or African masks as models, and sometimes I use live models. I simply look at my subject and draw what my mind's eye sees in a continuous line. I love interesting faces."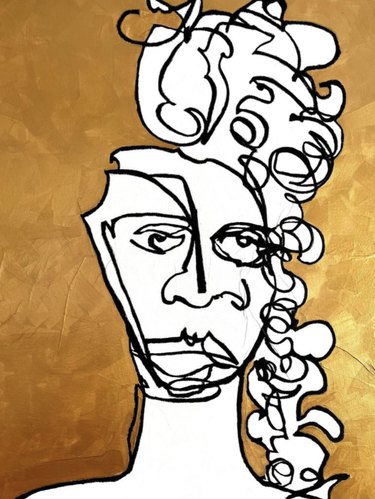 Lewis finds himself inspired by an infinite number of muses, but to name a few: Warhol, vintage ‌Interview‌ magazines, African tribal carvings, jazz and soul music, Japanese ink, and Black singers like Nina Simone, James Brown, and Aretha Franklin.
"There is an element of making or crafting in my collage works," the artist explains. "On top of the imagery, colors, lines, patterns, and shapes, there's a connection to seeing something familiar in my art that is enhanced as something new. Viewers are seeing the old and the new at the same time in my art."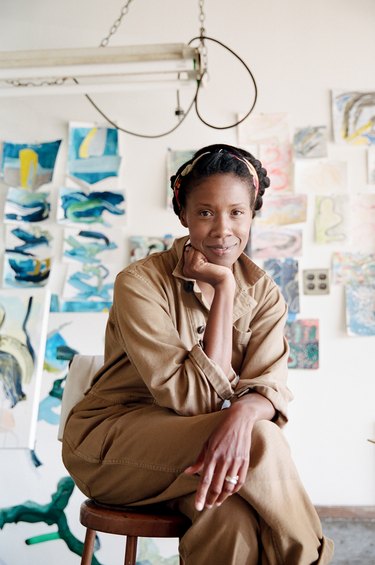 Like many creatives, K'era Morgan left a career in the corporate world to return to her artistic roots. The San Francisco Bay Area native received her BFA from The School of the Art Institute of Chicago, working in textile surface design and photography. However, she tells Hunker, "I left art school feeling a bit unprepared to forge a career as a creative in the real world and wound up taking the 'safe route,' building a successful career in public relations." For a while, she enjoyed this path, but ultimately, she says, "I realized that the corporate world wasn't for me and it was necessary for my mental health to return to my artistic roots."
Now, Morgan is an abstract painter and fabric designer whose textile creations are often based in collage. Describing her process as intuitive, she explains, "The Paul Klee quote: 'One eye sees, the other feels,' has always resonated with me because it encapsulates my process and approach to making art." Though her work rarely begins with a solid plan, the artist does explore metaphysical or spiritual concepts, finding "...inspiration or correlations between the human experience and the natural world."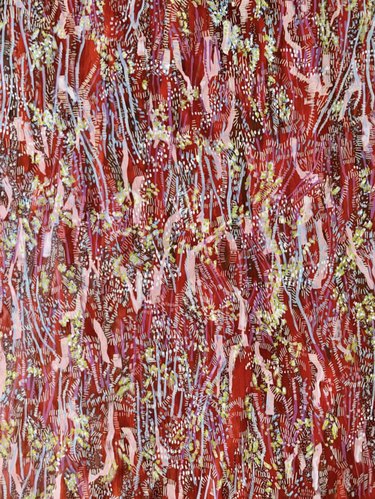 "I know it's not for everyone, but for those that are drawn to my work, I hope it can suck you in, creating a moment of pause or curiosity that allows you to get lost in a beautiful hypnotic way," Morgan concludes. "However, what the viewer takes away from it is truly up to them."
In addition to having her work in Hunker House for our Black Spaces programming, Morgan is also a part of Saatchi Art's digital Black History Month exhibition called ‌Piecing It Together‌.