If you love trying snacks from other countries, you're probably familiar with Costco's reputation for offering delicious international goodies. (And if you weren't? Well, now you know!) The warehouse's most recent addition hails from Japan, and we honestly can't wait to try them.
Per @costcobuys on Instagram, Costco is now selling taiyaki waffle cakes from the brand Suji's. For those who have never heard of taiyaki, it's a hand-sized waffle cake that's shaped like a fish. It's most commonly filled with red bean paste, though it can also be filled with ingredients like chocolate, cheese, and green tea cream. In Japan, taiyaki is a popular street food and is also availabe in adorable mini sizes.
The taiyaki by Suji's features three different fillings: chocolate cream, vanilla custard cream, and red bean paste with cinnamon. It also looks like the waffle portion of the chocolate and vanilla are, well, chocolate and vanilla! One box contains 30 mini taiyaki and costs $13.49.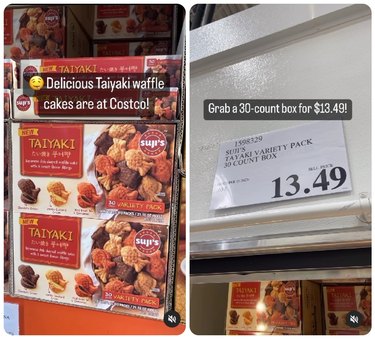 Now, this isn't the first time Costco has stocked the treat. In January 2022, user @costcofans on Twitter posted about the product. Around the same time, Suji's also shared a photo of the item at Costco on Instagram.
Here's to hoping that means the treat will come back every year. Either way, if you're interested in the taiyaki, be sure to stop by your local warehouse. You can check if it's in stock by calling Costco; its item number is 1598329.
Other Asian snacks to try at Costco:
Costco is also currently offering mini cakes for Lunar New Year, which begins on the January 22, 2023. The variety packs include three flavors: lychee, taro, and ice q, which is a peach-flavored filling. The lychee cakes are also shaped like rabbits, as the Year of the Rabbit is about to begin.