Now that it's officially February, you've probably walked into a grocery store to be greeted by an elaborate Valentine's Day display filled with candy, gifts, and, of course, dozens of red roses. Red roses are synonymous with romantic love, but Valentine's Day doesn't have to be reserved for only those in a romantic partnership. A valentine can be a friend, parent, grandparent, or even your work bestie. While you deeply care for these people, a red rose may not signify the specific kind of love shared between friends and family members.
Flowers have signified different emotions and meanings for centuries, and roses (and the variety of colors in which they come) suggest something specific and unique. If you're looking to give your valentine a bouquet of roses this year, taking some time to learn more about what each color represents can make your valentine's gift even more special.
Read on to find out more about 10 different shades of roses and see which color will best suit your love.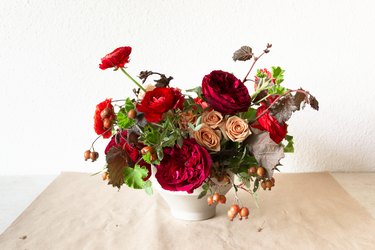 The quintessential flower for passion, romance, and love is, of course, a red rose. According to Greek mythology, a red rose was created when the goddess of love, Aphrodite, came across her lover, Adonis, who had recently been injured by a wild boar. A mixture of her tears and his blood made a red rose bush appear when they hit the ground, so a red rose is now known as a symbol of devotion. This color is perfect for your spouse or romantic partner.
Most things that are the color yellow signify happiness, cheerfulness, and joy. While a yellow rose used to be associated with jealousy, it now represents friendship and warmth. Yellow roses are a great Valentine's Day gift for your work colleagues, and they are the ideal rose to give to your BFF and close friends to let them know how much you care about them.
Roses come in many shades of pink, and light pink roses are associated with femininity, softness, and gentleness. Pink roses are a symbol of grace and elegance — a perfect choice for anyone in your life who loves a classic, feminine aesthetic.
Ivory roses are known for their calm and luxurious feel. You're bound to see ivory roses in luxury hotels or as centerpieces in elegant tablescapes at formal events. They would be a great Valentine's Day gift for an especially fashionable friend or for anyone you care about in a nonromantic way.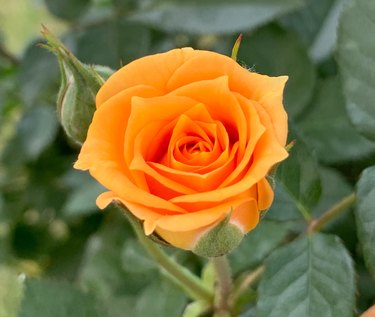 If you want your bouquet to pack a bit of a punch, orange roses would be a great option. Vibrant orange signifies passion and enthusiasm. Whether you're overflowing with love, gratitude, or admiration for your loved one, an orange rose will deliver the message to them in style. Orange is also a mixture of red (romance) and yellow (friendship), so an orange rose bouquet can signify a friendly relationship turning into a romantic one.
Purple is associated with royalty, majesty, and splendor, so a purple rose would be an ideal gift for a partner you'd honor like a king or queen. Purple is typically rare in nature, and centuries ago, purple dye was extremely difficult to obtain, which made it only available to the extremely wealthy. Even though purple dye is now more readily available, the color still represents grandeur and will make the recipient of a purple rose feel like royalty.
White roses signify youth, innocence, and purity, making them the perfect choice for a son or daughter. These flowers aren't reserved for those in adolescence, however. A white rose bouquet could also be a nod to a new beginning, like a budding relationship or the start of a new season of life.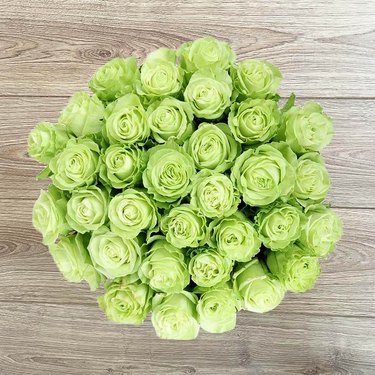 Green roses can seem like a unique choice, but green is associated with good fortune, wealth, and prosperity. For Valentine's Day, they'd be a nice choice for anyone who has had an especially stressful or hard start to the year as well as someone who may be in need of some luck. Perhaps your friend or partner is beginning a new creative project or a business. Giving a bouquet of green roses is a wonderful way to show support and love.
Perfect for anyone who may be anti-Valentine's Day, a black rose is actually very deep red. Black is generally associated with death and can signify the end of a relationship, idea, or feeling. On the flip side, black roses can also represent deep passion and lust. If you'd like to give black roses to a valentine in good spirit, just be sure to let them know what the black rose means to you.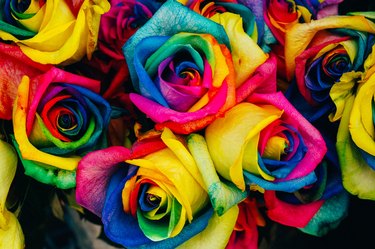 Multicolor roses appear just as they sound, with petals that look like they've been tie-dyed with a variety of colors. Also known as rainbow roses, these unique flowers represent joy and happiness. Much like orange roses, they can get your message across with enthusiasm and are sure to lift your recipient's spirits.