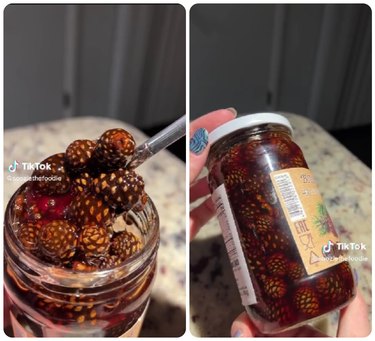 There's nothing like a TikTok food trend to make us do a double take. Notable examples include pasta chips, pink sauce, and the fascinating (yet gross) balsamic vinegar soda. More recently, pine cone jam has taken over the app, and folks are intrigued.
If you grew up in the U.S., the concept of pine cone jam might seem odd. However, it's actually a traditional condiment in some parts of the world — most notably, Georgia and Russia, according to Atlas Obscura. The concoction is also more of a syrup than a mushy or chunky jam, though it does include actual mini pine cones that can be eaten as well.
That being said, pine cone jam isn't exactly new, though most TikTokers are just hearing about it for the first time. Last month, @sooziethefoodie shared pine cone jam by a Russian brand, and the video has gained 3.4 million views (and counting) so far.
So, what does pine cone jam taste like, exactly? "The flavor of the syrup just taste really sweet, but the pine cones taste like Christmas," says @sooziethefoodie. Its flavor is also said to be similar to toffee, as well as a "mystical midnight forest with a secret and sugar," according to @alexisnikole on TikTok.
On that note, @alexisnikole shared a recipe for pine cone jam back in 2021, so you'll definitely want to check it out. In the TikTok, they explain what types of pine cones to use and how to prepare the jam. The more you know!
Where to buy pine cone jam:
If you're curious about pine cone jam but don't want to make your own, you may be able to find it in certain stores. Specifically, it may be available at Russian, Eastern European, or international supermarkets. Some Etsy sellers also offer homemade pine cone jam, which is pretty cool.