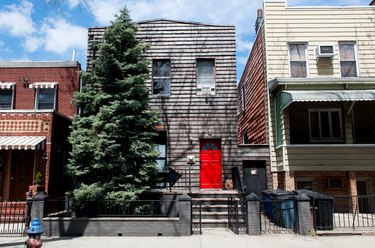 With the holidays officially in our rearview mirrors and a brand new year stretched out before us, many home-buying hopefuls are assessing the markets and strategizing for 2023 homeownership. Realtor.com previously released a forecast of the top housing markets of 2023, and now Zillow has followed up with its own list of the top 10 hottest housing markets you'll want to take advantage of this year.f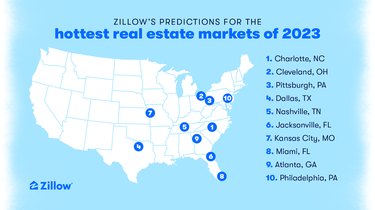 Based on a myriad of factors such as expected home value growth and buyer demand, Zillow has found Charlotte, North Carolina, to be this year's number one hottest housing market. In past years, the best markets have been those with fast-growing home values, but this won't be the case in 2023, according to Zillow. For example, home value growth in Charlotte is expected to be much slower this year than its 11.8% pace of 2022. In general, higher mortgage rates and extreme affordability challenges have chilled demand and brought home values down from last summer's peak.
Despite these trends, Charlotte still nabbed the top spot on Zillow's list because it ranks among large markets in projections for both home value growth and growth in owner-occupied households.
Second on the list is Cleveland, followed by Pittsburgh, and on the other end of the spectrum, Zillow found San Jose, Sacramento, and Minneapolis to be the coolest markets.
"This year's hottest markets will feel much chillier than they did a year ago," said Anushna Prakash, economic data analyst at Zillow. "The desire to move hasn't changed, but both buyers and sellers are frozen in place by higher mortgage rates, slowing the housing market to a crawl. Markets that offer relative affordability and room to grow are poised to stand out, especially given the prevalence of remote work."
Here's Zillow's complete top 10 list of hottest housing markets in 2023:
| | |
| --- | --- |
| 1. Charlotte, North Carolina | 6. Jacksonville, Florida |
| 2. Cleveland, Ohio | 7. Kansas City, Missouri |
| 3. Pittsburgh, Pennsylvania | 8. Miami, Florida |
| 4. Dallas, Texas | 9. Atlanta, Georgia |
| 5. Nashville, Tennessee | 10. Philadelphia, Pennsylvania |
Whether you're planning to buy or sell a home this year, you'll definitely want to keep this list in mind.