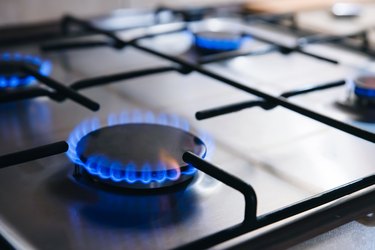 On January 9, 2023, The U.S. Consumer Product Safety Commission stated in an interview that they were considering making a move towards banning gas stoves after newly reviewed research showed that there may be a connection between the cooking gas and childhood asthma.
The news immediately went viral after it appeared in a Bloomberg article, prompting many people to worry about what would become of their beloved ovens. While those who are currently living with existing gas appliances likely won't have to worry about these regulations until their stoves need to be replaced, hopeful homeowners are a little worried about what this may mean for them as they consider potential properties for purchase. We talked with a few real estate agents to check the temperature on the gas stove fervor and find out what they were telling their clients about buying a home with an existing gas hookup.
The Potential Problem Has to Do With Childhood Health Concerns
Richard Trumka Jr., agency commissioner for The U.S. Consumer Product Safety Commission, explained in his interview with Bloomberg how recent papers from organizations like the Environmental Protection Agency and World Health Organization have described gas stoves as being a source of dangerous amounts of air pollutants like nitrogen dioxide, carbon monoxide, and more.
As such, the commission is looking to see how they can lessen the dangers to consumers, especially children, who are at a higher risk of developing certain conditions after exposure. "This is a hidden hazard," Trumka said in the explosive interview. "Any option is on the table. Products that can't be made safe can be banned."
The Potential Ban Doesn't Seem to be Worrisome to Consumers Looking at Houses With Gas Stoves
Those strong words from Trumka may have some buyers worried whether it's a wise choice to purchase a home with a cooking setup that could soon become obsolete — especially considering the added costs (and work) that can come along with converting your home to electric. According to Consumer Reports, you could be looking at as little as $400 to make the switch (not including the cost of a new oven) or a whole lot more, depending on how your home is wired.
However, Gerard Splendore, a broker with Coldwell Banker Warburg tells Hunker the majority of the buyers he talks to currently prefer gas stoves and even see them as an advantage. "I am in contract for a large apartment with a chef's kitchen with 'legal outdoor venting,'" he says. "It definitely helped to sell the apartment."
Have the Stove Converted Before Closing
While Splendore says that gas is not inherently dangerous as long as it is properly maintained and vented, there ‌are‌ buyers who'd rather avoid the headache altogether. For those who are concerned about either the health impacts of gas stoves or the pending legislation, Splendore says you can certainly ask your seller to take care of it before you sign on the dotted line.
"Buyers may make any request before closing or as a contact requirement to close, including removing or replacing a stove or appliance," he says, adding that it would work just like any other negotiation you'd take care of prior to the sale.
Gas Stoves May Eventually Wane in Popularity
These types of stoves could be on their way out regardless of what the U.S. Consumer Product Safety Commission decides to do, according to Frederick Warburg Peters, president and broker with Coldwell Banker Warburg. "I think that we will see a big changeover to induction over the next few years," he tells Hunker, adding that people who want to continue using their existing gas stoves will likely make some major changes in their kitchen to make it work, like adding strong exhaust fans to move fumes outside of the home or windows that easily open for venting.
Some people may have been keen on buying a home with a gas stove because of the cost savings, something Warburg Peters says could go out the window if the home converts to electric before the sale. "Another big question: Gas is cheap. How will this affect electricity bills for those who switch?" he asks.
Fortunately, the changes are still just in the discussion stage and likely a long way from becoming law. Also, it's important for potential buyers to remember that a ban on gas stoves is unlikely to impact properties that already have these types of setups until it comes time to replace them, which means a ban may be years away from impacting your new home.
That being said, if you're worried about the potential health risks, you can always make your home purchase conditional upon having the seller switch to electric before you get to the closing table.